How to
How to Single Crochet Two Stitches Together (Decrease)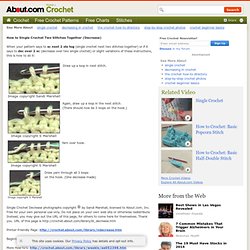 How to Decrease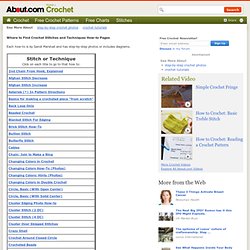 Where to Find Crochet Stitches and Techniques How-to Pages
Triple Treble How To With Diagrams Following are diagrams and instructions for learning how to crochet a Triple Treble stitch (also called a Treble Treble stitch).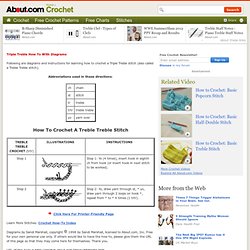 Triple Treble How To with Diagrams
The US double treble (also called double triple) is another basic stitch, the next step up in length from the treble.
Steps For Learning How To Crochet a Double Treble Stitch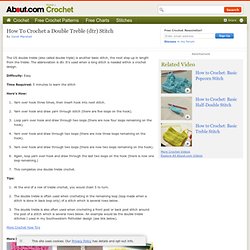 How To Do a Treble or Triple Stitch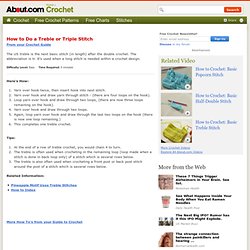 How to Do a Treble or Triple Stitch From your Crochet Guide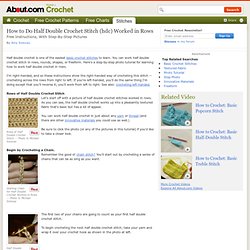 Instructions for How to Do Half Double Crochet Stitch Worked in Rows
Half double crochet is one of the easiest basic crochet stitches to learn.
Basic Stitches in Crochet -- Instructions for Beginners to Learn the Basic Crochet Stitches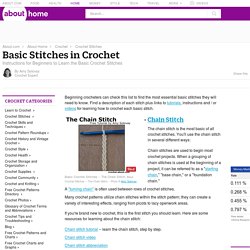 Beginning crocheters can check this list to find the most essential basic stitches they will need to know. Find a description of each stitch plus links to tutorials, instructions and / or videos for learning how to crochet each basic stitch.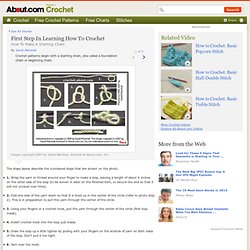 First Step In Learning How To Crochet - How To Make A Starting Chain - Also Called Foundation Chain or Beginning Chain
The steps below describe the numbered steps that are shown on the photo. 1. Wrap the yarn or thread around your finger to make a loop, leaving a length of about 6 inches on the other side of the loop (to be woven in later on the finished item, to secure the end so that it will not unravel over time). 2. Fold one side of the yarn down so that it is lined up in the center of the circle (refer to photo step 2).
The photos in this tutorial show the single crochet being made in single crochet stitches that were crocheted in a previous row. The steps below explain the numbered steps that are shown on the photo above.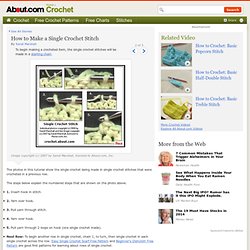 How to Make a Single Crochet Stitch - Learning Photo - Quick Condensed Tutorial