Outils Webmaster
Code Playground. Dreamer.eu5.org/blog/comment-detecter-adblock/
PHP Scripts, WordPress Plugins, HTML5, jQuery, and CSS | CodeCanyon. Marqueed - Simple image collaboration and markup tool. Share, annotate and discuss images. CMS. WhatTheFont! WordPress Slider & Gallery Plugin | SlideDeck. Open Site Explorer. Pears. The Toolbox: a directory of useful single-page sites and apps. Typetester – Compare fonts for the screen. Online Tools for Software Developers (Free) Sprite Creator 2.0. Welcome to Sprite Creator.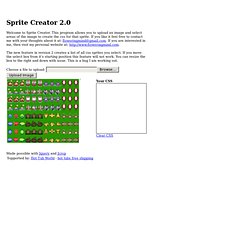 This program allows you to upload an image and select areas of the image to create the css for that sprite. If you like it feel free to contact me with your thoughts about it at: floweringmind@gmail.com. If you are interested in me, then visit my personal website at: Button Maker. Google HTML/CSS Style Guide. Strictly keep structure (markup), presentation (styling), and behavior (scripting) apart, and try to keep the interaction between the three to an absolute minimum.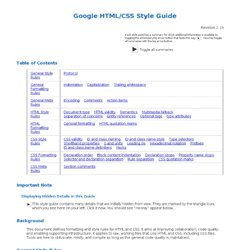 That is, make sure documents and templates contain only HTML and HTML that is solely serving structural purposes. Move everything presentational into style sheets, and everything behavioral into scripts. In addition, keep the contact area as small as possible by linking as few style sheets and scripts as possible from documents and templates. 35 Useful Responsive Web Design Tools.
With the great popularity of tablets and smart-phones, the demand for responsive website design is more serious than ever.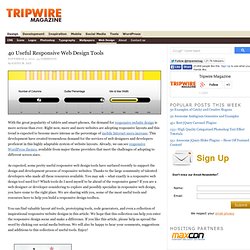 Right now, more and more websites are adopting responsive layouts and this trend is expected to become more intense as the percentage of mobile Internet users increase. This development have created tremendous demand for the services of web designers and developers proficient in this highly adaptable system of website layouts. Already, we can see responsive WordPress themes, available from major theme providers that meet the challenges of adopting to different screen sizes.
As expected, some pretty useful responsive web design tools have surfaced recently to support the design and development process of responsive websites.
► Dictionnaire en ligne collaboratif - Dico du Net. Définitions Webmarketing. Link Building Tools We Use at Distilled. The author's posts are entirely his or her own (excluding the unlikely event of hypnosis) and may not always reflect the views of Moz.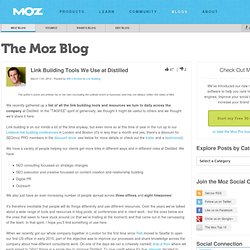 We recently gathered up a list of all the link building tools and resources we turn to daily across the company at Distilled. In the "TAGFEE" spirit of generosity, we thought it might be useful to others and we thought we'd share it here. Link building is on our minds a lot of the time anyway, but even more so at this time of year in the run up to our Linklove link building conferences in London and Boston (it's in less than a month and yes, there's a discount for SEOmoz PRO members in the discount store, see below for more details or check out the trailer and a testimonial).
We have a variety of people helping our clients get more links in different ways and in different roles at Distilled. We have: Liste de blogs, forums et annuaires dofollow. 06 janvier 2009 Cet article présente une liste de ressources vers des blogs et forums en dofollow ainsi que des sites, annuaire et autres moteurs de recherche afin de les trouver.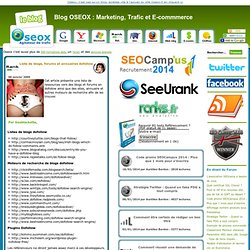 Par Seoblackette, Listes de blogs dofollow Moteurs de recherche de blogs dofollow. Website Review - WooRank.com. Photos "Creative commons".
---