Outils Webmaster
Code Playground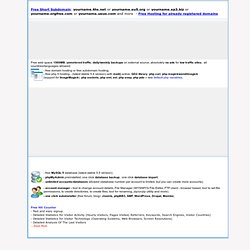 dreamer.eu5.org/blog/comment-detecter-adblock/
Il est de plus en plus utilisé par les internautes. Il permet de bloquer les publicités intrusives qui nuisent à la bonne utilisation d'un site mais bloque aussi les publicités discrètes qui permettent à un site de survivre comme celles de Google AdSense; c'est le devenu fameux Adblock ou Adblock +. Voir un exemple d'anti-Adblock dans cette page si vous utilisez Adblock >>> Son programmeur s'est dit même se consacrer entièrement au développement de cette extension Firefox, Google Chrome, Opera, Internet Explorer. Comme remarqué plus haut, Adblock permet de bloquer les pubs intrusives et les pop-ups de tous genres qui sautent aux yeux de l'internaute mais son inconvénient est qu'il bloque tout. Vous savez que nombreux webmasters font rouler leurs sites grâce aux revenus des annonces publicitaires, alors comment voulons-nous continuer à consulter un site qui survit grâce à la pub alors qu'on veut bloquer ces pubs?
CMS
Online Tools for Software Developers (Free)
Sprite Creator 2.0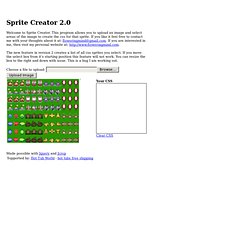 Welcome to Sprite Creator. This program allows you to upload an image and select areas of the image to create the css for that sprite. If you like it feel free to contact me with your thoughts about it at: floweringmind@gmail.com . If you are interested in me, then visit my personal website at: http://www.floweringmind.com .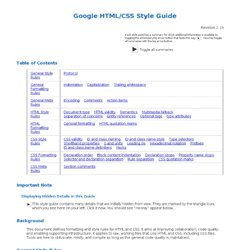 Google HTML/CSS Style Guide
Strictly keep structure (markup), presentation (styling), and behavior (scripting) apart, and try to keep the interaction between the three to an absolute minimum. That is, make sure documents and templates contain only HTML and HTML that is solely serving structural purposes. Move everything presentational into style sheets, and everything behavioral into scripts. In addition, keep the contact area as small as possible by linking as few style sheets and scripts as possible from documents and templates.
With the great popularity of tablets and smart-phones, the demand for responsive website design is more serious than ever. Right now, more and more websites are adopting responsive layouts and this trend is expected to become more intense as the percentage of mobile Internet users increase . This development have created tremendous demand for the services of web designers and developers proficient in this highly adaptable system of website layouts. Already, we can see responsive WordPress themes , available from major theme providers that meet the challenges of adopting to different screen sizes. As expected, some pretty useful responsive web design tools have surfaced recently to support the design and development process of responsive websites.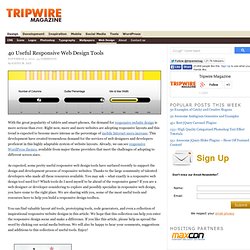 06 janvier 2009 Cet article présente une liste de ressources vers des blogs et forums en dofollow ainsi que des sites, annuaire et autres moteurs de recherche afin de les trouver.
Liste de blogs, forums et annuaires dofollow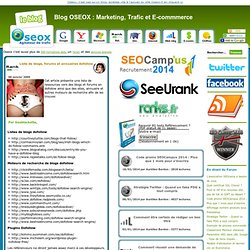 Photos "Creative commons"