Movies
Video: The Short Film Charlie Kaufman Didn't Know He Was Making. Tape (2001. Edit Storyline Based on a three-character, one-act play, Tape is set entirely in Room 19 of a seedy motel in Lansing, Michigan rented by Vince, an ill-tempered, outgoing party animal/drug dealer who's visited by his old high school friend Jon, a documentary filmmaker, where they pass the time reminiscing about the good old times which take a turn when Vince records their conversation with Jon admitting to a possible date-rape of Vince's old girlfriend Amy, who later shows up and opens up a new wave of talk and arguments about whose story is fact or fabricated.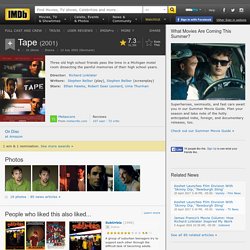 The Idiots (1998. Songs from the Second Floor (2000. MY ULTIMATE BEST MOVIES: 2000-2012 - a list by Dr-Faustus. Before You Wanna Commit Suicide, Watch These First! - a list by JamesRajeshCool. Animals Continue to Fascinate Humans - Films Prove It. 100 Free Classic Films Everyone Should See. January 28th, 2010 By Pamelia Brown While summer blockbusters and new movies can be great, older movies have a lot to offer as well and can show you a wealth of artistry, inspiration for later films and great storytelling.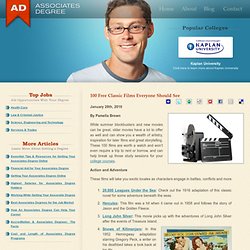 These 100 films are worth a watch and won't even require a trip to rent or borrow, and can help break up those study sessions for your college courses. Action and Adventure These films will take you exotic locales as characters engage in battles, conflicts and more. CONFRONTATION MASH-UP. 5 Real Places Plucked Straight Out of Fairy Tales. We recently brought you some examples of famous fictional locations that, much to everyone's surprise, you can actually visit for real.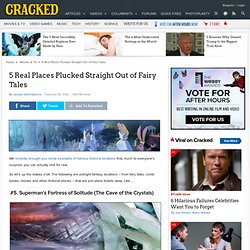 So let's up the stakes a bit. The following are outright fantasy locations -- from fairy tales, comic books, movies and other fictional stories -- that are just plane tickets away. Like ... #5. Superman's Fortress of Solitude (The Cave of the Crystals) 5 Amazing Performances From Actors Who Weren't Acting. #2.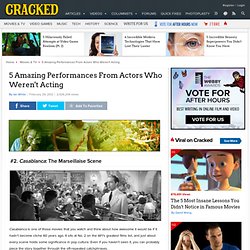 Casablanca: The Marseillaise Scene Casablanca is one of those movies that you watch and think about how awesome it would be if it hadn't become cliche 60 years ago. It sits at No. 2 on the AFI's greatest films list, and just about every scene holds some significance in pop culture. Even if you haven't seen it, you can probably piece the story together through the oft-repeated catchphrases.
Martin Scorsese's Film School: The 85 Films You Need To See To Know Anything About Film. Interviewing Martin Scorsese is like taking a master class in film.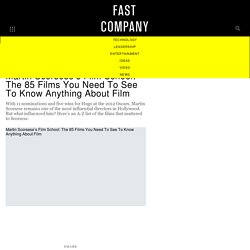 Fast Company's four-hour interview with the director for the December-January cover story was ostensibly about his career, and how he had been able to stay so creative through years of battling studios. But the Hugo director punctuated everything he said with references to movies: 85 of them, in fact, all listed below. Some of the movies he discussed (note: the descriptions for these are below in quotes, denoting his own words). 2011-15) films you can't miss - a list by rockblueengland. Howtheylooknow: children in horror movies. Alex Vincent (Andy in Child's Play 1 and 2).Last seen: As Jeff Danieloff in My Family Treasure (1993).Gave up on acting.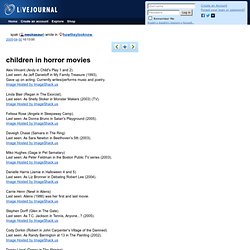 Currently writes/performs music and poetry. Linda Blair (Regan in The Exorcist).Last seen: As Shelly Stoker in Monster Makers (2003) (TV). Felissa Rose (Angela in Sleepaway Camp).Last seen: As Donna Bruno in Satan's Playground (2005). Best Art/Foreign Movies with Trailers, Reviews and Cast Details. This is the category to peruse if you are the purist who prefers independently produced, serious movies which may contain foreign language and remote locations to take your imagination off to a far away land.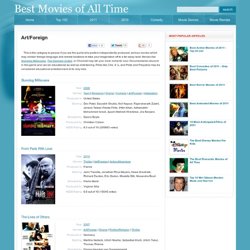 Movies like Slumdog Millionaire , The Damned United , or Chocolat may stir your inner romantic soul. Documentaries abound in this genre and can be educational as well as entertaining. Here is a list of related movie subreddits! If you have any suggestions, please reply! : movies. Tim Burton to Adapt Pinocchio with Robert Downey, Jr. | Cultural Transmogrifier Magazine. Tim Burton wants to adapt yet another Disney classic – this time a live-action version of Pinocchio .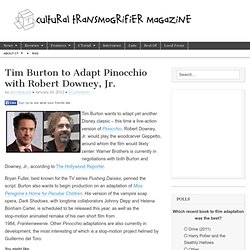 Robert Downey, Jr. would play the woodcarver Geppetto, around whom the film would likely center. Warner Brothers is currently in negotiations with both Burton and Downey, Jr., according to The Hollywood Reporter. Bryan Fuller, best known for the TV series Pushing Daisies, penned the script. My Week with Marilyn: Emma Watson takes centre stage at UK premiere. By Andrea Magrath Updated: 10:18 GMT, 22 November 2011 Michelle Williams' mesmerising transformation into Marilyn Monroe in My Week with Marilyn is already garnering Oscar buzz.
But with the film's star a no show at the London premiere tonight, it was up to Emma Watson to step into the spotlight to promote the British movie on home ground. And the ever-stylish 21-year-old was up to the task, dazzling on the red carpet at the Cineworld complex in Haymarket, central London. Prim princess: Emma Watson dazzles at the London premiere of My Week with Marilyn tonight.
---