TRAVEL
Flight Bytes / Home - OAG Traveler - Official Airline Guides, Flight Schedules Flight Tools for Business Travellers. Travel Assistant Pro with TripIt for iPhone, iPod touch, and iPad on the iTunes App Store. Local and National Weather Forecast, Radar, Maps a. BOOK. AIR. CURRENCY/CREDIT. Taxi Magic. Track Flight Status. Travel 2. TripIt - Travel Itinerary – Trip Planner. Mobile Trip Planner – Mobile Travel App – TripIt.
Cookies must be enabled.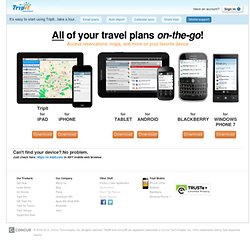 Please modify your browser settings so we can remember you when you visit TripIt. After cookies are enabled, please refresh the page. A mobile tool for air travelers. ArrivedOK.mobi, Your Personal Flight Arrival Tracker. FlightCaster. Travel Apps – Travel Tools – TripIt. Business Traveller - corporate travel information, city guides, flight reservations... Flight Update Pro - Live Status, Push + TripIt for iPhone, iPod touch, and iPad on the iTunes App Store. Description Flight Update Pro provides timely flight status information combined with numerous convenient & powerful features every traveler requires.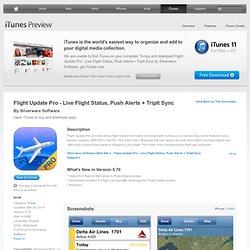 APP EXCLUSIVES: This is the ONLY flight app that can: search for both direct AND non-direct flights and offers fully customizable alerts to changes in your flight. This is the most comprehensive flight app available! Chosen BEST Summer App by tuaw***
RENTALS
HOTEL. FOOD.
---