Blogs I follow
Australia Model Curbs Speed as CEO Says U.S. Too Far Gone (Bloomberg) In Australia, where high-frequency trading firms are half as pervasive as in the U.S., the head of the biggest stock exchange has a message for Americans who would rein them in: forget it. "The way the U.S. market structure has been set up creates serious problems," Elmer Funke Kupper, the chief executive officer of Sydney-based ASX Ltd., told Bloomberg News on the sidelines of a conference March 24. Efforts to rectify that are "very late and unlikely to succeed," he said. Advantages that are hard to replicate in the U.S. help Funke Kupper curb speed traders. Australia restricts alternative exchanges, solidifying ASX's near-monopoly and reducing high-frequency arbitrage.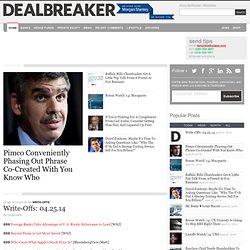 FATAL RISK: A Cautionary Tale of AIG's Corporate Suicide
The latest book for your shelf of credit crisis reads is FATAL RISK: A Cautionary Tale of AIG's Corporate Suicide by Roddy Boyd. It tells the tale of how Goldman Sachs and AIG entered a pas a deux — an intertwined dance that became a ballet of death for one of them, and a source of great riches for the other. Most people's understanding of the 2007-2009 subprime crisis includes only as passing knowledge of the AIG saga.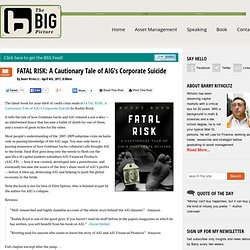 As we alluded to earlier, there is a battle taking place in the oil markets at the moment. On one side there are conventional oil producers like Opec members desperate to stop oil prices from following the declining trajectory of the wider commodity complex. On the other side there are the new US shale oil producers, who — due to the US export ban — are unable to capture the full earnings potential of their production (on account of an inability to tap foreign bids directly). The problem for Opec types is that the break-even rates they seek to defend are now too high to prevent the new class of producer from being incentivised to keep producing. This despite the fact that the export bottleneck only ends up transferring much of the profitability to the refining sector instead of the US producer. Read more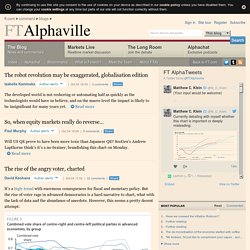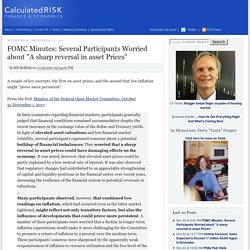 by Bill McBride on 1/17/2014 04:20:00 PM From housing economist Tom Lawler: Based on realtor association/MLS reports from across the country, I estimate that US existing home sales as measured by the National Association of Realtors ran at a seasonally adjusted annual rate of 4.96 million in December, up 1.2% from both November's seasonally adjusted pace and last December's seasonally adjusted pace. I estimate that unadjusted sales (as measured by the NAR) showed a slightly higher YOY growth than SA sales, reflecting this December's higher business day count than last December. YOY sales results varied massively across the country. California home sales showed a sizable YOY drop last month, reflecting a large decline in "distressed" sales as well as a steep decrease in investor buying of both distressed and non-distressed sales, combined with relatively flat sales to owner occupants.