Partage web
Booktype. "I was looking for a way to give our authors a simple, powerful way to edit and create books and Booktype is it!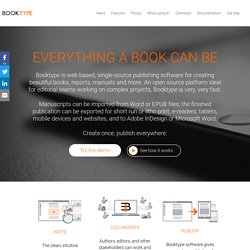 " Alessandro De Giorgi Youcanprint.it "Booktype is becoming the ideal platform for open publishing. With the booksprint methodology, Booktype enabled us generate the Spending Data Handbook in a few days, while remaining open to feedback and development. " Friedrich Lindenberg Head of Labs (Technology), "I was impressed at how seamless and almost invisible Booktype was in the project.
TodaysMeet. Scriffon. TitanPad. TypeWith.me. EtherPad. ScripTorium. Image du site Gutenberg Le mot scriptorium (au pluriel, des scriptoria) vient du verbe latin scribere qui signifie « écrire » ou « celui qui écrit ».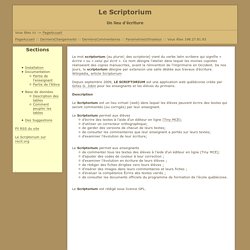 Ce nom désigne l'atelier dans lequel les moines copistes réalisaient des copies manuscrites, avant la réinvention de l'imprimerie en Occident. De nos jours, le scriptorium désigne par extension une salle dédiée aux travaux d'écriture. Wikipédia, article Scriptorium. Google Documents. PrimaryPad. Crocodoc. Scribd.
---