Partage web
"I was looking for a way to give our authors a simple, powerful way to edit and create books and Booktype is it! " Alessandro De Giorgi Youcanprint.it "Booktype is becoming the ideal platform for open publishing. With the booksprint methodology, Booktype enabled us generate the Spending Data Handbook in a few days, while remaining open to feedback and development." Friedrich Lindenberg Head of Labs (Technology), http://okfnlabs.org "I was impressed at how seamless and almost invisible Booktype was in the project.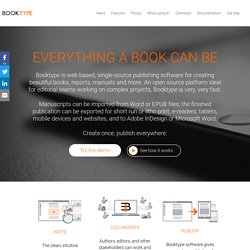 Completely free, as easy as ABC Writings of any kind Essays, news, reviews, stories, how-tos, recipes, poems, any written thing. Several pen names Publish under your real name, pseudonyms, or both – with the same account. Drafts Take the time you need to write – minutes or months. Publish only when it's ready to go online.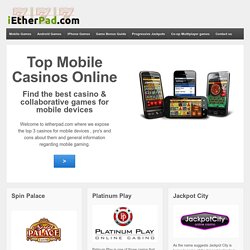 • Dungeon Defenders: Second Wave This sequel to launched for the Android platform and iOS. Second Wave contains all of the content of First Wave, as well as additional maps and game modes.Most notably, it introduces Player vs Player combat in Arenas, where "you'll compete across a variety of territorial-combat maps, on a team, or Free-For-All."The Second Wave also introduces a revamped UI, including removing some buttons, making a build and hero menu on the right and manual camera turning. • Flight Control HD Flight Control is about as classic as games get for iOS. It not only has won a pile full of awards since it was released, it's single handedly responsible for popularizing the whole "line drawing" and "chaos management" family of games.
Image du site Gutenberg Le mot scriptorium (au pluriel, des scriptoria) vient du verbe latin scribere qui signifie « écrire » ou « celui qui écrit ». Ce nom désigne l'atelier dans lequel les moines copistes réalisaient des copies manuscrites, avant la réinvention de l'imprimerie en Occident. De nos jours, le scriptorium désigne par extension une salle dédiée aux travaux d'écriture. Wikipédia, article Scriptorium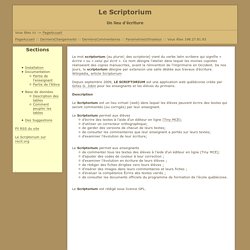 What do I get with my subscription? Your subscription enables you to read thousands of professionally published, popular books in a wide variety of genres on Scribd.com and on supported mobile devices. In addition, you will have full access to millions of user-contributed written works that have been published on Scribd like short stories and essays.