Pc
Top 10 Tips and Tricks for Ubuntu 11.10. Ubuntu 11.10 (Oneiric Ocelot) is expected to release on 13th of this month, I've tried the beta versions.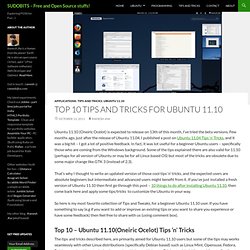 Few months ago, just after the release of Ubuntu 11.04, I published a post on Ubuntu 11.04 Tips 'n' Tricks, and it was a big hit – I got a lot of positive feedback. In fact, it was lot useful for a beginner Ubuntu users – specifically those who are coming from the Windows background. Some of the tips explained there are also valid for 11.10 (perhaps for all version of Ubuntu or may be for all Linux based OS) but most of the tricks are obsolete due to some major change like GTK 3 (instead of 2.3).
That's why I thought to write an updated version of those cool tips 'n' tricks, and the expected users are absolute beginners but intermediate and advanced users might benefit from it. GetDeb, PlayDeb Repositories Down - What To Do? Use This Mirror! GetDeb is a website which comes with a repository for easily installing lots of Ubuntu applications which are not available in the official Ubuntu repositories (mostly updates).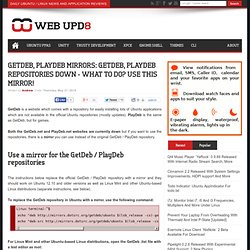 PlayDeb is the same as GetDeb, but for games. Both the GetDeb.net and PlayDeb.net websites are currently down but if you want to use the repositories, there is a mirror you can use instead of the original GetDeb / PlayDeb repository. The instructions below replace the official GetDeb / PlayDeb repository with a mirror and they should work on Ubuntu 12.10 and older versions as well as Linux Mint and other Ubuntu-based Linux distributions (separate instructions, see below).
To replace the GetDeb repository in Ubuntu with a mirror, use the following command: Ubuntu 11.04 | Multimedia Boom. SuperGamer. Homepage. Boxee - Watch Movies, TV Shows and clips from the Internet on your TV. Debian. Opensource.
---