Guides
Google has lots of useful tools to offer to the marketer – most of them are free and awesome – the two words you not so often find go in combination. This post looks at various ways to do keyword research with free Google tools – more often than not you won't need any other tools at all. 1. Just Use Google Search Google Search has answers to all questions (I mean it).
Keyword Research with Google Only: No Other Tools Needed | Searc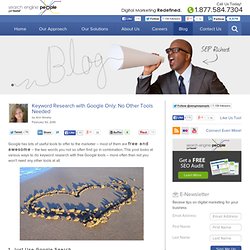 Introduction Another year, another increase in the complexity of Local search results at Google. Last year's survey was released almost simultaneously with the announcement of Google+ Local (which, according to the experts, has affected rankings surprisingly little), and this year's edition follows close on the heels of widespread reports of Carousel results and the release of the new Google Maps. Two constants over the course of the past year, however, have been the continued appearance of Localized Organic results and the ever-increasing percentage of searches coming from mobile devices.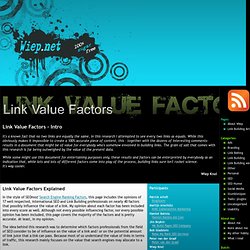 Link Value Factors Explained In the style of SEOmoz' Search Engine Ranking Factors, this page includes the opinions of 17 well respected, international SEO and Link Building professionals on nearly 40 factors that possibly influence the value of a link. My opinion about each factor has been included into every score as well. Although not every possible influencing factor, nor every possible opinion has been included, this page covers the majority of the factors and is pretty accurate. At least, in my opinion.
Link Value Factors | Wiep
# Unique cblocks Linking to the Page # of Unique IPs Linking to the Page # of Root Domains Linking to the Page Digital Marketing Excellence Drives Traffic and Results! Stone Temple Consulting (STC) uses a holistic approach to provide a full range of Digital Marketing services. Examples of these are:
Web Marketing and Web Analytics Articles