Music
Rock Prodigy App Tutorial. Sound Cover™: iPad Cover with Powerful Built-in Speakers by Petur Hannes Olafsson. Have you ever wished for better sound on your iPad for travel, business and entertainment on the go?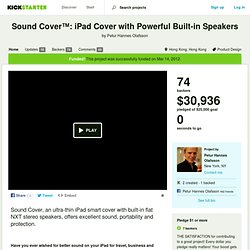 Now you can grant your iPad an amazing audio experience, anywhere, anytime! Sound Cover™, an ultra-thin iPad case with built-in NXT stereo speakers, offers solid, powerful, crystal clear sound that boosts your iPad's volume by up to 300%. It's perfect for music, video games or movies; it protects your iPad, keeping it safe and stylish on the go; it has a super lightweight and modern design, ideal for travel, office or home. Sound Cover™ is an ever-evolving product dedicated to the iPad series, so you can choose a Sound Cover based on your iPad model (iPad 2 or newer).We have been hearing many rumors about the next generation iPad's design; to tailor-fit the new specifications, we'll add a new model of Sound Cover after the new iPad is released.
Now we are taking pre-orders for both the iPad 2 and iPad 3 versions. iShred LIVE - iPhone and iPad Guitar Effects! Très bonne appli Christophe - France Très bonne appli, des sons sympas.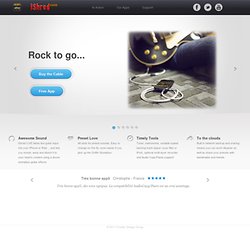 La compatibilité AudioCopy/Paste est un vrai avantage. Awesome!!! Acoustic Sounds - United States. USB Audio Interface | POD Studio KB37 | Line 6. POD Studio™ KB37 is a powerful USB interface that boasts a versatile a 37-key MIDI controller, a comprehensive I/O and the stunning sound of POD Farm™ 2.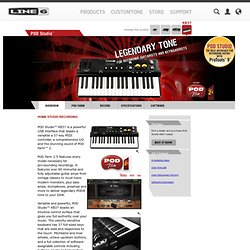 POD Farm 2.5 features every model necessary for pro-sounding recordings. It features over 80 immortal and fully adjustable guitar amps from vintage classics to must-have modern monsters, plus bass amps, stompboxes, preamps and more to deliver legendary POD® tone to your DAW. iOS Sampler, Sir Sampleton, Gets MIDI Support. Developer Paul Slocum has updated Sir Sampleton – a sampling keyboard for iOS – adding support for the Line 6 MIDI Mobilizer.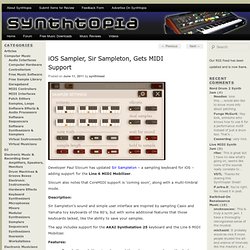 Slocum also notes that CoreMIDI support is 'coming soon', along with a multi-timbral mode. Description: Sir Sampleton's sound and simple user interface are inspired by sampling Casio and Yamaha toy keyboards of the 80′s, but with some additional features that those keyboards lacked, like the ability to save your samples. The World's Favorite Music Making, Recording and Music Production Software - Propellerhead. Homepage. S n o i z e : SysEx Librarian. Download version 1.3 1.3 MB What is it?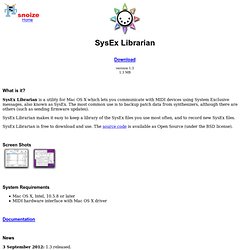 SysEx Librarian is a utility for Mac OS X which lets you communicate with MIDI devices using System Exclusive messages, also known as SysEx. The most common use is to backup patch data from synthesizers, although there are others (such as sending firmware updates). SysEx Librarian makes it easy to keep a library of the SysEx files you use most often, and to record new SysEx files. S n o i z e. Virtual Instruments, Virtual Effects, VST Plugins, Audio Units (AU), AAX & RTAS Audio Plugin News, Reviews and Community - plus iOS (iPhone and iPad) and Android Audio App News Too. Software Samplers, iPad. AKAI Pro SynthStation – Check This Out! This is a sneak preview of AKAI Pro SynthStation, a new app that looks like it's going to have some people rethinking their ideas about iPad Music Software.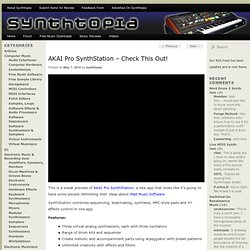 SynthStation combines sequencing, beatmaking, synthesis, MPC-style pads and XY effects control in one app. Features: Three virtual-analog synthesizers, each with three oscillators Range of drum kits and sequencer Create melodic and accompaniment parts using arpeggiator with preset patterns Unlimited creativity with effects and filters More SynthStation action below! Akai intros MPC Fly pad controller for iPad 2. Controller doubles as iPad case Akai has introduced the MPC Fly, a compact music production center designed specifically for the iPad 2.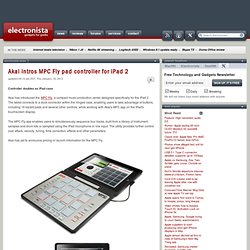 The tablet connects to a dock connector within the hinged case, enabling users to take advantage of buttons, including 16 backlit pads and several other controls, while working with Akai's MPC app on the iPad's touchscreen display. The MPC Fly app enables users to simultaneously sequence four tracks, built from a library of instrument samples and drum kits or sampled using the iPad microphone or line input. The utility provides further control over attack, velocity, tuning, time correction, effects and other parameters. Akai has yet to announce pricing or launch information for the MPC Fly. Akai's iPad-docking SynthStation 49 and updated app: eyes-on at NAMM 2011. Remember when everything had an iPhone dock?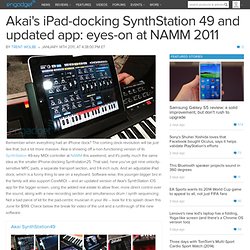 The coming dock revolution will be just like that, but a lot more massive. Akai is showing off a non-functioning version of its SynthStation 49-key MIDI controller at NAMM this weekend, and it's pretty much the same idea as the smaller iPhone-docking Synthstation25. Akai MPC Fly iPad Controller: Turns Your Pad into a Portable Music Production Center. January 21st, 2012 by Range More and more, we're seeing solutions for electronic musicians who want to take their show on the road without getting too cluttered up.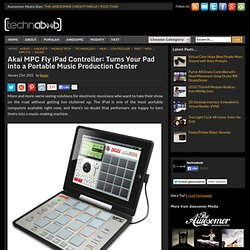 The iPad is one of the most portable computers available right now, and there's no doubt that performers are happy to turn theirs into a music-making machine. While there are plenty of dedicated music-making apps for the iPad, the Akai MPC Fly Pad Controller for iPad 2 is an interesting addition to any musician's arsenal, since it adds tactile pads, while taking advantage of the iPad 2′s powerful brains. It's especially cool if you want to you to create music on the go. The controller/case features a double hinge which docks with the iPad, allowing it to sit upright, lie flat, or close – clamshell-style, protecting your iPad for travel. SynthStation Music Production App for iPhone and iPod touch. SynthStation transforms iPad, iPhone or iPod touch into a portable music production studio for mobile music creation.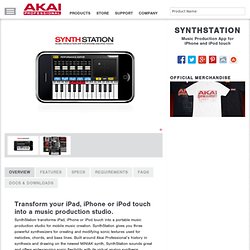 SynthStation gives you three powerful synthesizers for creating and modifying sonic textures used for melodies, chords, and bass lines. Built around Akai Professional's history in synthesis and drawing on the newest MINIAK synth, SynthStation sounds great and offers wide-ranging sonic flexibility with its virtual analog synthesis. From the moment you start SynthStation, you'll know your way around. It is jam-packed with tools to help you create music with the convenience of your touch screen and each section works the way you work. With SynthStation, you can create and save sequences and complete songs. iMASCHINE. The first ever Native Instruments iPhone®, iPod touch® and iPad®* App is an intuitive beat sketchpad based on MASCHINE's groove production studio concept. iMASCHINE is perfect for developing song ideas anytime, anywhere – Play and record drums on the 16 pads, jam a melody on the keyboard, sing on top of your loops via the built-in audio recorder or create your own unique sample banks from any source - With iMASCHINE the focus is always on the music.
And when you're done, you can finalize your track in the full version of MASCHINE or MASCHINE MIKRO or directly upload the loop to SoundCloud and share with your friends. Mac OS X Audio | The Ultimate OS X Music and Audio Production Site. Bleep!BOX, a groove box and drum machine app for your iPhone™ iOS Buyers Guide: Best Multitrack Recording Apps | iOS Recording. Multitrack recording is taking different forms on iOS. From linear, tape machine style recording, to modern non-linear graphical editing, recording audio on the iPad, iPhone and iPod touch comes in many flavors. Each program has it's trade-offs and limitations, but all will inspire creativity.
Since this technology is still new, we feel like there is a lot to look forward to. iOS Recording | Pro Audio Hardware, Apps, MIDI, Synths, Music & Reviews On iPad, iPhone & iPod Touch. iOS MIDI. Sound Quest Midi Quest 8.0 Universal Editor/Librarian Main Page. Korg Wavestation Page. MOTU.com - Welcome to MOTU Audio. Wavestation Editor-Librarian Programs. Korg Legacy Collection. The 'Legacy Collection' bundle from Korg is an awesome set of virtual instruments!
Korg has recreated some of their most beloved and classic synthesizers here as software plug-ins - the MS-20 mono-synth of the 1970's, the super fat Polysix analog synthesizer and the ground breaking Wavestation digital synthesizer. Using Korg's own CMT (Component /modeling Technology) these virtual instruments sound as good, if not better than the originals.
The Legacy collection is simply a must-have for any synthesist. The Limted Edition 84% scale MS-20 replica controller is worth the price alone! Sound Quest Inc. Korg Wavestation Editor/Librarian and Virtualizer. Essential Music App Features: Audio Copy & Audio Paste — iOS Music And You. AudioCopy Enabled Apps: iPad/iPhone Apps AppList. Sonoma Wire Works - FourTrack Multitrack Recorder for iOS. iPad 2 - Play and record music with GarageBand. :: iosaudio :: The best iPad music making apps in the world today | Create the ultimate iPad studio. 25 Tempting Music Apps for the iPad.
---