Beef
Get flash to fully experience Pearltrees
I mar­ried a meat and pota­toes guy. Which is kind of crazy because when we met and were mar­ried he was a veg­e­tar­ian, he had been for 5 years until on our hon­ey­moon in Hawaii when he had a bite of fish. And even then he didn't come home & dive into meat. But deep down lurk­ing beneath the sur­face was a meat eater.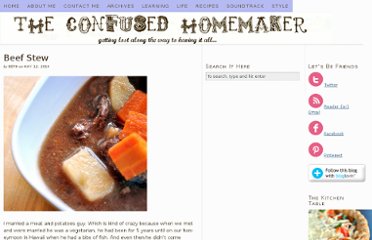 ren't you feeling beef tonight? I do. And when I crave beef, I crave Korean beef such as , or .
Preheat oven to 400°F. Place each head of garlic, cut side up, in center of square of foil; drizzle each with 1 teaspoon oil. Enclose garlic in foil.
Preheat broiler. Pat steak dry. Stir together 1 teaspoon salt, cumin, coriander, and pepper in a small bowl and rub mixture onto both sides of steak.
Combine all the ingredients in a small bowl. Makes about 1 1/4 cups. Any extra will keep in a tightly covered glass jar for several months. Preheat a gas or charcoal grill to high.
What exactly is it about Beef Jerky that is so addicting and tasty? And why in the world is it so ridiculously expensive? On average, a 3 oz. bag can run you at least $4.00 and lasts what, 2 minutes? This is the reason why we have made the executive decision to make our own beef jerky at home with our own ingredients!