Réseaux
Introduction J'ai souhaité mettre en place un VPN SSL chez moi pour permettre à des amis d'accéder à mon réseau local dans le but de partager des données mais surtout pour jouer en réseau. De plus, la solution présentée ci-dessous me permet de me connecter à mon réseau local depuis un réseau d'entreprise. En effet un simple accès à Internet sur le port TCP 443 (HTTPS) suffit, ce qui est souvent le cas en entreprise qui laisse au moins passer HTTP et HTTPS.
Création d'un VPN SSL avec OpenVPN - Nemako - Systèmes et Réseau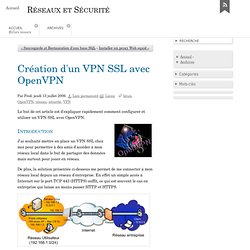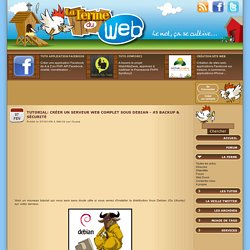 Tutorial: Créer un serveur web complet sous debian - #5 Backup &
Voici un nouveau tutorial qui vous sera sans doute utile si vous venez d'installer la distribution linux Debian (Ou Ubuntu) sur votre serveur. Introduction Objectif de ce tutorial L'objectif du tutorial est d'obtenir un serveur linux debian permettant d'héberger et de gérer vos sites web PHP / MySQL à distance, uniquement avec un accès SSH. Voici les différentes parties du tutorial qui seront divisées en 5 billets: Pré requis
01net. le 23/11/09 à 17h24 C'est parti ! L'Icann, l'organisme qui gère les noms de domaine, et l'opérateur VeriSign ont décidé de mettre les bouchées doubles dans l'implémentation du protocole DNSSEC (DNS Security Extensions) avec, à la clé, une feuille de route précise pour le déploiement sur les serveurs racine. Ensuite, Verisign implémentera ce protocole sur les domaines .com et .net, dont il est responsable. DNSSEC est un protocole qui, grâce à un système de signature électronique, permet de vérifier l'authenticité de la réponse d'un serveur DNS.
DNSSEC sur les serveurs racine de l'Internet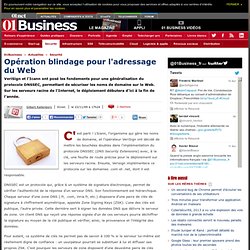 The Google Wave invite rollout extravaganza started more than a month ago. While in some respects the buzz around Google Wave has started to subside, the term is still constantly one of the top trending topics on Twitter, and new gadgets, extensions, and applications are now starting to appear on a daily basis. Each day more and more people are opening up their email inbox to find an invite to Google Wave. With that shiny new invite comes the inevitable quest for ideas about to how to put the medium to good use.Should you happen to be one of those people, we've got a number of different resources that you can use to get up to speed with Google Wave. This time around, however, we wanted to look at how people are actually using it now. From process modelling and customer service, to project collaboration, annotation, and gaming, the examples listed here highlight the power of the newborn medium, and in part, showcase what we can expect as the platform matures.
5 Impressive Real-Life Google Wave Use Cases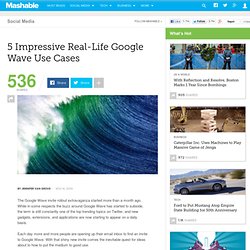 Opération réseaux sociaux