Outils
Windows Desktop Gadgets. Skybn.com. Hex Editor XVI32. [Overview] [Features] [What's New] [Screenshots] [User Reviews] [Download] [Installation] [Other Freeware] [Home] Overview XVI32 is a freeware hex editor running under Windows 9x/NT/2000/XP/Vista/7.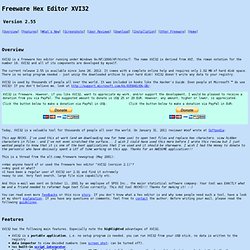 The name XVI32 is derived from XVI, the roman notation for the number 16. XVI32 and all of its components are developed by myself. The current release 2.55 is available since June 26, 2012. Nodesoft (divers petits outils)
Nettoyage. Fichiers. Dates & heures. XdN Tweaker. • Click Here to Download XdN Tweaker • What is it?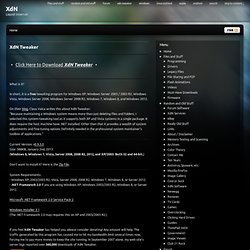 In short, it is a free tweaking program for Windows XP, Windows Server 2003 / 2003 R2, Windows Vista, Windows Server 2008, Windows Server 2008 R2, Windows 7, Windows 8, and Windows 2012. On their blog, Claus Valca writes this about XdN Tweaker: "Because maintaining a Windows system means more than just deleting files and folders. I selected this system-tweaking tool as it supports both XP and Vista systems in a single package.
SpeedCrunch. SIW (System Information for Windows) Glarysoft. Quick Startup. Customer Review "Using the application is so easy that it hardly needs any description, which is good because the accompanying help documentation is poor.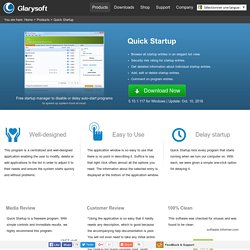 You will not even need to take any initial action as the Quick Startup will automatically refresh the Startup list during program start. Right clicking the desired entry will let you perform any of the possible actions: deleting, enabling/disabling,starting or editing the select item. " Pedro Castro Senior editor. Patch My PC.
---