Tech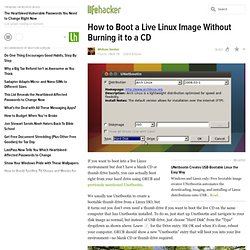 How to Boot a Live Linux Image Without Burning it to a CD
If you want to boot into a live Linux environment but don't have a blank CD or thumb drive handy, you can actually boot right from your hard drive using GRUB and previously mentioned Unetbootin . We usually use Unetbootin to create a bootable thumb drive from a Linux ISO, but it turns out you don't even need a thumb drive if you want to boot the live CD on the same computer that has Unetbootin installed. To do so, just start up Unetbootin and navigate to your disk image as normal, but instead of USB drive, just choose "Hard Disk" from the "Type" dropdown as shown above. Leave / for the Drive entry. Hit OK and when it's done, reboot your computer.
$4 Solar Battery Charger
Modernize your electrical outlets with U-Socket, the 1st change to the wall outlet in 85 years! Since 1927, the wall outlet has consisted of hot, neutral & ground plugs that provide 110V of AC power. U-Socket adds 2 USB plugs that also provide 5V of DC power.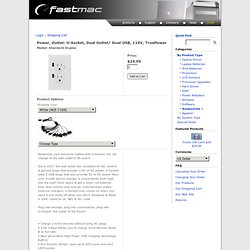 In a 1972 paper entitled "A Personal Computer for Children of All Ages" , Alan Kay imagined a world in which children would use "personal, portable information manipulators" to read books, create art, and learn about the solar system. We are not there yet, but we're closer than we've ever been. Since January 2010, my colleagues and I at Cedars School of Excellence have been deploying a new computing program in our school—with exciting results. Replacing the Mac Cedars is a small independent school in Greenock, Scotland, with 105 pupils in Primary 1 through Secondary 5 (roughly equivalent to kindergarten through 12th grade in the United States). We have always been a Mac-based school: When we opened in 1999, our first hardware purchase was a G3 server.
An iPad for every child | Tablets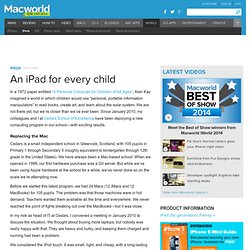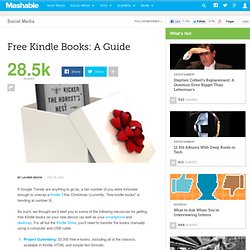 Free Kindle Books: A Guide
If Google Trends are anything to go by, a fair number of you were fortunate enough to unwrap a Kindle 3 this Christmas (currently, "free kindle books" is trending at number 9). As such, we thought we'd alert you to some of the following resources for getting free Kindle books on your new device (as well as your smartphone and desktop ). For all but the Kindle Store , you'll need to transfer the books manually using a computer and USB cable. Project Gutenberg : 33,000 free e-books, including all of the classics, available in Kindle, HTML and simple text formats.