Specific Patterns
Crochet coffee cuff. (If you're not big on embellishment, you can skip to the next step.)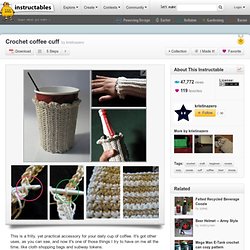 At this point, make sure your working yarn is on the same edge as the tail from the beginning of your work (you'll need this for step 4). If it isn't, you can add another row, or rip one out. Vice Versa Scarves. Author by Even Howard Introduction It has occurred to me that while we often play Santa or other generous holiday characters we rarely play Cupid to anyone but our most favorite person.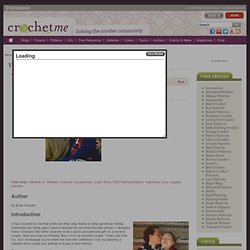 I designed these 'One and The Other' scarves to be a quick and personal gift for a favorite couple. Tunian Crochet Blanket Pattern - Stash Buster Blanket. Tunisian Crochet Pattern - Not a Finished Blanket Bust through your stash in record time - creating a beautiful, EASY blanket of interwoven color and texture to show for it!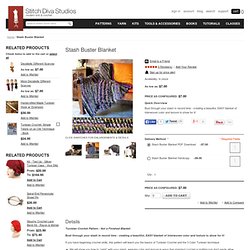 If you have beginning crochet skills, this pattern will teach you the basics of Tunisian Crochet and the 3 Color Tunisian technique. We will show you how to "paint" with your stash, weaving color and texture in ways that standard crochet or knitting just don't easily allow. Crochet ric-rac. Hey there!
What are you up to this fine Monday morning? Since my post last week, I've had so many emails and comments asking about the recipe for homemade, hooked ric-rac, that I thought I'd do a little how to. Before we start there are a few things to keep in mind. I am using US crochet terminology.I usually use a size 2 hook but its fun to experiment. The smaller the hook-the smaller the ric-rac, the bigger the hook, the bigger the ric-rac.I use 4ply mercerised cotton but its fun to experiment with different plies and yarns.My words describe the picture above them.The stitches I am using are chain (ch) and double crochet (dc).
Free Patterns – The Domestic Scientist. Here are all the patterns I've made so far here at the DS.
Man this place is a mess. I should really clean up in here…. Timeless Scarf. Making scarfs is a fun and relaxing crocheting experience.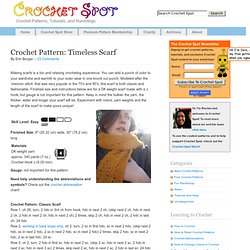 You can add a punch of color to your wardrobe and warmth to your outer wear in one knock out punch. Modeled after the 'chevron stitch' that was very popular in the 70′s and 80′s ,this scarf is both classic and fashionable. Finished size and instructions below are for a DK weight scarf made with a J hook, but gauge is not important for this pattern. Crochet DROPS hat in "Cotton Viscose" and "Bomull-Lin". Size S/M – M/L.
---