iPad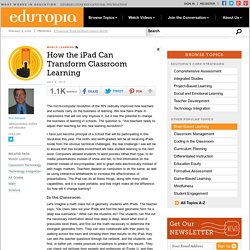 The micro-computer revolution of the 80's radically improved how teachers and schools carry on the business of learning. We now have iPads in classrooms that will not only improve it, but it has the potential to change the business of learning in schools. The question is, "Are teachers ready to adjust their teaching for this new learning revolution?" I have just become principal of a school that will be participating in this revolution this year. The ninth- and tenth-graders will be all receiving iPads. Aside from the obvious technical challenges, the real challenge I see will be to assure that this sizable investment will take student learning to the next level.
It's time for holiday road trips and you know what that means: driving, flying, cranky kids, and… teaching opportunities! What's that, you say? Well, there is so much downtime during the holidays where kids and adults spend hours just passing the time… why not try out some new apps on your phone?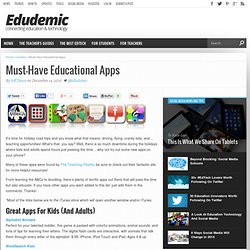 ISTE iPad in Education Webinar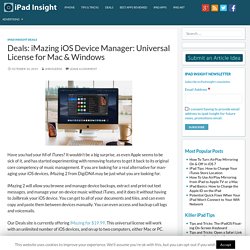 iPad apps are, and have always been, a big part of what makes the iPad such a powerful device. Great apps, and unique apps that you just don't find anywhere else, are one of the hallmark features of the iPad. They have been since Day 1, and scores of great developers and publishers continue to produce apps that are exclusively for the iPad. Our weekly picks for Best iPad App of the Week are published here every Saturday. This week's pick is Ancient Battle: Alexander, a very cool new strategy war game from Hunted Cow Studios. Hunted Cow have been bringing some excellent war games to the iPad for years now.