iPad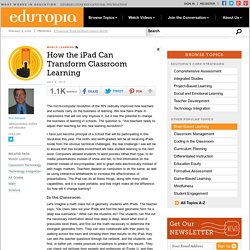 The micro-computer revolution of the 80's radically improved how teachers and schools carry on the business of learning. We now have iPads in classrooms that will not only improve it, but it has the potential to change the business of learning in schools. The question is, "Are teachers ready to adjust their teaching for this new learning revolution?" I have just become principal of a school that will be participating in this revolution this year. The ninth- and tenth-graders will be all receiving iPads. Aside from the obvious technical challenges, the real challenge I see will be to assure that this sizable investment will take student learning to the next level.
ISTE iPad in Education Webinar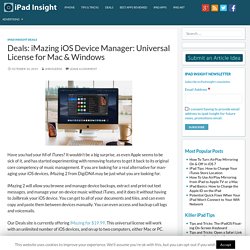 Google Play Movies & TV is a new app for the iPad and iPhone that lets you watch movies and TV shows that you bought or rented through Google Play. The app has a very bare bones UI, with just 3 sections – Watch Now, My Movies, and My TV Shows. Watch Now shows your most recently viewed item. My Movies and My TV Shows show your recently purchased or rented items in those categories. You can't rent or buy anything within the app itself (due to App Store restrictions), but it will show any movies or shows you've paid for in the Google Play Store instantly. I haven't spent enough time in the Google Play Movies & TV store yet to see how good the range of selections is, but I'm happy to see another source of content available on the iPad – and especially another one that supports Google's excellent Chromecast device.