Furniture Design Ideas
Search. #ededed #e8dcca #b08a61 #66503c #6b636a #aba2a4.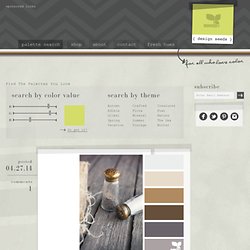 Discover New Products - Innovative Design - Unique Gifts - Powered by Citizen Commerce. Cool People Shop | Buy Cool Stuff Online, gadgets, gifts, geek stuff, accessories. MAISON&OBJET - maison-objet. One Kings Lane - All Sales. Sarah Louise Dix | Upholstery & Bespoke Furniture - Home. Gus* Modern | Modern Furniture Made Simple | Sofas, Sectionals, Chairs, Tables, Storage & Accents.
W12"xD12"xH18" This accent table playfully fuses woodgrain patterns onto a five-sided acrylic box, juxtaposing organic lines with modern materials.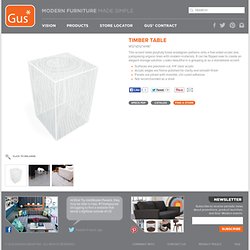 It can be flipped over to create an elegant storage solution. Looks beautiful in a grouping or as a standalone accent. Reader request - patterned sofas. Bright patterns on a large piece of furniture can really trip some people up...daring choice to purchase but it could be the greatest asset in your living space...make sure the style/design of the sofa is what you love and make sure you spend some time sitting in and moving around in the sofa before you buy it...because in the end, if you decide the sofa's fabric is too much, throw a blanket or slip cover over it...but if it's uncomfortable..not much you can do about that....best of luck...maureen.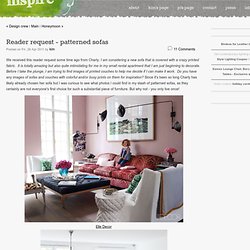 Floral Wing Backpatchwork sofa by namedesignstudio. The Pink fever wing patchwork sofa is traditionally quilted 2 seats handmade patchwork sofa upholstered with vintage Thai Hmong and floral printed fabrics mix.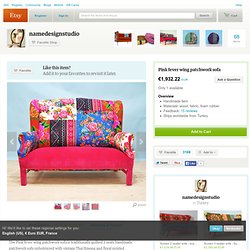 The wood construction, the foam rubber and the fabrics are brand new.The frame is made of kiln dried hardwood. Lovely combination of the floral fabrics and wonderful choice for homes, offices, cafes, gardens etc. product dimension (in cm): width - 140 cm height - 115 cm depth - 85 cm seat height - 45 cm product dimension (in inches):
Poz07.jpg (JPEG Image, 818 × 544 pixels) Bedroom Decorating Ideas: Yellow Fever. Decorate.
---