Snacks/Appetizers
10 Snacks Under 100 Calories - YouBeauty.com - StumbleUpon. Thinkstock Preparation: In a food processor, combine garlic and cannellini beans with lemon juice and process until smooth.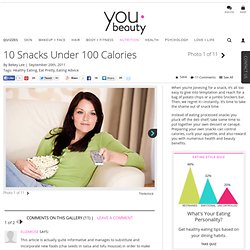 Mix in oil, cumin, chili powder, salt and pepper and process until blended. Healthy Super Bowl Snacks. It's easy to go overboard when it comes to snacking during the Super Bowl.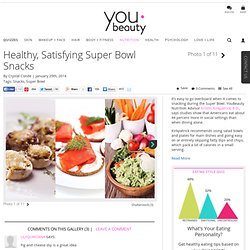 YouBeauty Nutrition Advisor Kristin Kirkpatrick, R.D., says studies show that Americans eat about 44 percent more in social settings than when dining alone. Kirkpatrick recommends using salad bowls and plates for main dishes and going easy on or entirely skipping fatty dips and chips, which pack a lot of calories in a small serving. Easy appetizer ideas - iVillage. Sweet & Savory - by Virginia Drader. This is a classic recipe for potato latkes.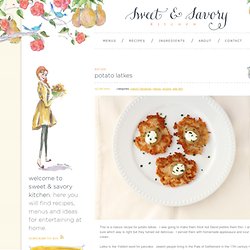 I was going to make them thick but David prefers them thin; I am not sure which way is right but they turned out delicious. I served them with homemade applesauce and sour cream. Recipe for Cilantro Lime Hummus. The Super Bowl is right around the corner, is everyone ready for the big game?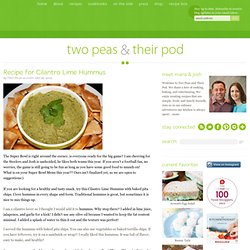 I am cheering for the Steelers and Josh is undecided, he likes both teams this year. If you aren't a football fan, no worries, the game is still going to be fun as long as you have some good food to munch on! Strawberry Mango Salsa Recipe. Strawberry Mango Salsa Cinco de Mayo is tomorrow!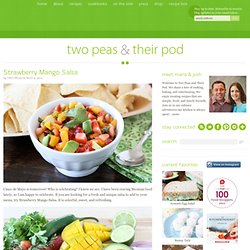 Who is celebrating? I know we are. I have been craving Mexican food lately, so I am happy to celebrate. Broiled Grapefruit Recipe. Broiled Grapefruit Recipe I have always been a grapefruit lover.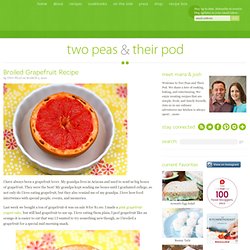 My grandpa lives in Arizona and used to send us big boxes of grapefruit. They were the best! Man-approved spicy oven fries | MNN - Mother Nature Network - StumbleUpon.
---