Crafts, jewelry, etc.
Embellish a Card with Felted Shells - Quilting Daily. It's summer here, and if you're lucky enough to live near the ocean, you can find plenty of artistic inspiration from the landscape, the wildlife, and the found objects.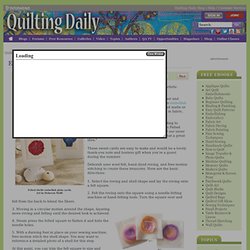 Shells hold a particular fascination for many fiber and mixed-media artists. You can use found shells to embellish an art quilt. Or the colors, textures, patterns, and matte or iridescent surfaces of shells can be interpreted in fabric, surface design, beadwork, and fibers. Page 9. Tutorial Tuesday - Button Bracelets. Tutorial Tuesday - Button Bracelets My girlfriend came over to refill my estrogen reserves last week, and brought with her a fantastic craft for us to do together while chatting, laughing, gossiping and catching up after her long vacation.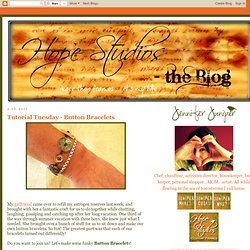 One third of the way through summer vacation with three boys, she knew just what I needed. She brought over a bunch of stuff for us to sit down and make our own button bracelets. So fun! DIY Craft: No-Sew Fabric Covered Box Tutorial. How to make gift bags from newspaper. When I bought something at a store recently, the clerk handed me my purchase in a bag made from a newspaper.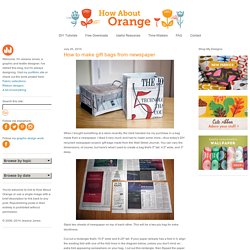 I liked it very much and had to make some more—thus today's DIY recycled newspaper project: gift bags made from the Wall Street Journal. You can vary the dimensions, of course, but here's what I used to create a bag that's 5" tall, 4.5" wide, and 3" deep. Stack two sheets of newspaper on top of each other. This will be a two-ply bag for extra sturdiness. Cut out a rectangle that's 15.5" wide and 8.25" tall. Crayon Heart Valentines | Lifestyle Crafts. Bokmärken – Craft of the Day, bookmarks. Du behöver: Kuvert (återanvänd gärna gamla kuvert), ett ark med vitt papper (för mallen), sax, penna, lim och ett mönstrat papper.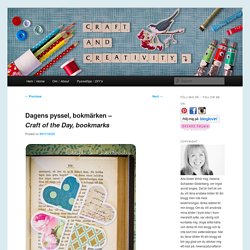 Inspiration till detta pyssel kommer från The Creative Homemaker. Fler varianter på samma tema finns här och här. Gör så här: Vik ett enkelt vitt papper diagonalt. Rita en en hjärtbåge i hörnet av papperet, som på bilden. » DIY Simple Valentine Note Cards. I love these cards.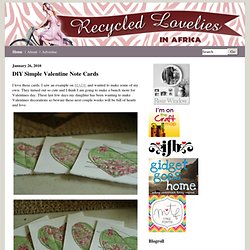 I saw an example on MADE and wanted to make some of my own. They turned out so cute and I think I am going to make a bunch more for Valentines day. These last few days my daughter has been wanting to make Valentines decorations so beware these next couple weeks will be full of hearts and love.
---