Clothes
Jersey Mini Sport Skirt DIY from a T-shirt Fashion+Home+Lifestyle Blog
Last summer, we were obsessed with shibori indigo tie dying.
DIY Shredding – HonestlyWTF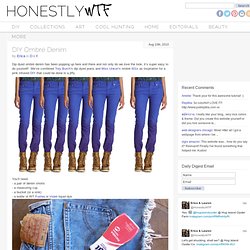 Dip dyed ombré denim has been popping up here and there and not only do we love the look, it's super easy to do yourself! We've combined Tory Burch's dip dyed jeans and Miss Unkon's ombré 501s as inspiration for a pink infused DIY that could be done in a jiffy.
DIY Weekly - Leather Collar
A few weeks ago, our friend Katie showed up wearing the cutest lace trimmed shorts.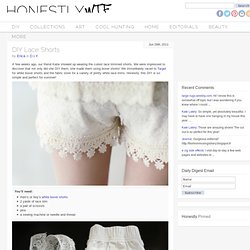 DIY Weekly - Cut Out Back Shirt
shredded+back_stylehurricane.jpg (image)
chains + shredded shorts
First you'll need to get ready: Jeans cut to desired length, craft knife or Xacto scalpel, Jewellery precision pliers, chains of different width, Eyelet set (Pliers, eyelets) Use the craft blade to slice a section, then scrape down.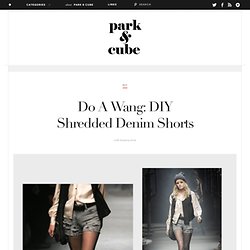 DIY: Shoulder pads with studs and feathers
Again I have to start my post with telling - I'm sick, again. I had a bunch of big bronze studs and the beautiful coque feather fringe, so I decided to make shoulder pads. I wasn't able to make some photos while wearing those because I look terrible (fever makes people look bad :D).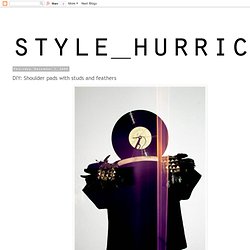 TUTORIAL+SHOULDER+PADS.jpg (image)
DIY Multi Colour Bodycon Dress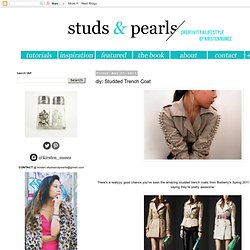 There's a reallyyy good chance you've seen the amazing studded trench coats from Burberry's Spring 2011 line.
Studded Trench Coat
Fact: My sewing machine is from the Czech Republic so I had to teach myself from scratch using the Czech manual book.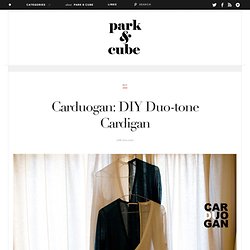 Carduogan
DIY White Lace Cami Top Tutorial
DIY Weekly - Celine Inspired Blazer guest post at Chic Steals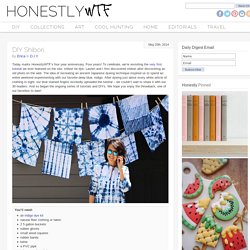 Shibori is a Japanese term for methods of dyeing cloth by binding, stitching, folding, twisting, and compressing.