Earthquake
ライブ履歴. マゴソスクール:アフリカの風. 皆さん、こんにちは。
ケニアはスタディツアーの季節で、これからぞくぞくとお客様登場で楽しみにしています。 さて、皆さんいつもマゴソスクールの子どもたちを応援してくださってありがとうございます。 2012年のマゴソスクール財政状況をお知らせします。 JKTS. 9月の終わりに健診と病院の夜勤のお手伝いで南三陸町に行きました。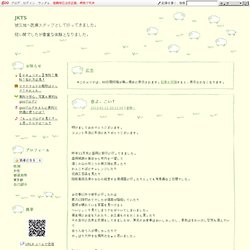 震災直後と今とでは医療従事者の役割もだいぶ変わってきたように思います。 南三陸町にある土手に上って景色を見渡すと 果てしなく続く更地と所々に集められた瓦礫しかありませんでした。 【宮崎野菜で東北支援】「野菜サポーター」募集!: 東北地方太平洋沖地震・津波 救援レポート. 【宮崎の野菜で東北を支援します!】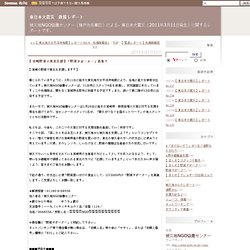 報じられていますように、3月11日に起きた東北地方太平洋沖地震により、各地に甚大な被害が出ています。 被災地NGO恊働センターは、11日夜にスタッフ4名を派遣し、状況調査にあたっています。 Japan Earthquake and Tsunami Relief Fund. Summary The north coast of Japan was hit by a horrible tsunami after a 9.0 magnitude earthquake that occurred 80 miles offshore.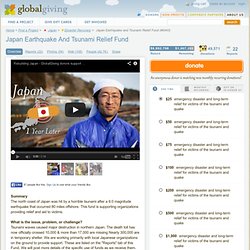 This fund is supporting organizations providing relief and aid to victims. What is the issue, problem, or challenge? Untitled. 2011.03.11 earthquake urayasu chiba Japan 東北地方太平洋沖地震. Tsunami japan おいらせ町. ABC News - Japan Earthquake: before and after. Development: Andrew KesperSource: Google Aerial photos taken over Japan have revealed the scale of devastation across dozens of suburbs and tens of thousands of homes and businesses.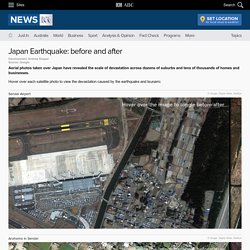 Hover over each satellite photo to view the devastation caused by the earthquake and tsunami. Sendai Airport © Google, Digital Globe, GeoEye. Photos of Japan After Earthquake and Tsunami - Photographs.
---