Free Vector Art Resources
DryIcons.com - Free Icons and Vector Graphics. Vector patterns | Patternsshop.com. 50 Tileable and Seamless Pattern Sets (500+ Patterns) There are no individual seamless patterns in this post, only complete sets, with each set containing anything from 3 patterns all the way up to 100, and are available in a variety of popular formats: .eps, .ai, .png, .pat, .psd and .jpg.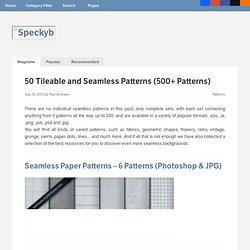 You will find all kinds of varied patterns, such as fabrics, geometric shapes, flowery, retro, vintage, grunge, swirls, paper, dots, lines… and much more. And if all that is not enough we have also collected a selection of the best resources for you to discover even more seamless backgrounds. Seamless Paper Patterns – 6 Patterns (Photoshop & JPG) Fabric Inspired Vector Swatches – 4 Patterns (.ai) Abstract Gears – 3 Patterns (.eps & .png)
Vector4Free. CoolVectors.com. QVectors. FreeVectors.net. Vecteezy!
---