Geography
Geographic. U.S. Geography Educational Games and Activities - State Units of Study. Activities on this page have been grouped by both state and type of activity.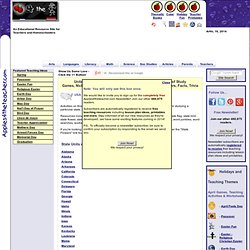 If you are studying a particular state, you will find all our resources under that state name. Resources include facts and trivia, state nicknames, state capitals, state symbols (state flag, state bird, state flower, state map, state quarter), interactive coloring pages, scrambler puzzles, word jumbles, word searches, worksheets and other printables. If you're looking for all the state flowers, for instance, you may find them quicker under the "State Flowers" link found after the individual state links below. Geography Websites. Maps of India: This amazing website is the largest resource of maps on India.
This site provides all types of India map – Outline maps, physical maps, Political maps, Reference maps, Pin codes, Driving directions and India news maps – along with a large number of utility tools and informative write-ups. India Travel is about its 5000 years of glorious history that interests you there are several forts, monuments, heritage grandeur, numerous religious centers, royal retreats, rich wildlife, lofty Himalayas, spellbinding backwaters, breathtaking sand dunes, sun kissed beaches and more.
Pupilvision is a 600 page website full of resources for pupils and teachers of geography. Built by Keith Phipps who is Head of geography and Head of Year at King Edward VI Camp Hill school for Boys in Birmingham, the site was originally built to support his pupils. Over the two years of development the site has become a major resource. Geography & Geology For Kids - By KidsGeo.com. Educational Software from Owl & Mouse. USA Geography - Map Game - Geography Online Games.
"I stumbled upon your fun interactive geography games from a link on the Massachusetts Geographic Alliance Website.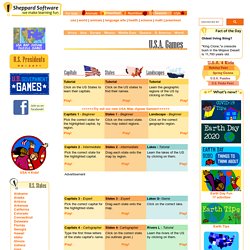 Since then, your games have become quite a hit with my competitive colleagues! " --Candice Gomes, Education Outreach Coordinator, Boston Public Library. KidsKnowIt.com - Internet's Most Popular Educational Website For Kids - Thousands of Free Educational Games And Activities. Internet Resources for use in Geographical Studies. National Geographic - Inspiring People to Care About the Planet Since 1888. Teachers Homepage. Internet Geography.
---