P&W Sharepoint
Get flash to fully experience Pearltrees
Dino Dato-on Jinger Zhao Microsoft Corporation May 2004 Applies to: Microsoft® Windows® SharePoint™ Services Microsoft Office SharePoint Portal Server 2003 Microsoft Office FrontPage® 2003 Summary : The third of three companion articles. In Customizing SharePoint Sites and Portals, Part 1 , you learned ways to customize a SharePoint site and an area; manage users, sites, and templates; change the structure of pages in a site; manage user access; and optimize style sheets. In Customizing SharePoint Sites and Portals: Using Templates and Site Definitions, Part 2 , you created and edited a site using templates and site definitions.
I've written before on an approach called Content Value Analysis (CVA) and I've now produced the detail of how this might be done in practice. Chiara Fox of Adaptive Path in her presentation on Content Analysis came closest to this approach when she talked about Content Audits at Euro IA 2008. However there is a crucial difference between our approaches – the use of statistical techniques and documented heuristics.
I read a couple of blog posts recently that seemed to make a lot of sense to me when thought of together. The first post was in Toby Ward's excellent IntranetBlog entitled 'Intranet 2.0 sits on the back burner'. Here Toby comments on a recent survey which semed to indicate that Intranet 2.0 isn't really getting off the ground with the take up rate for blogs, wikis and social tagging in organisations not getting above 15%. The other post was in Giraffe Forum and was entitled 'Intranets are not information dumps'. In the article the author states 'The vast majority of intranets would be far more productive and collaborative if they deleted at least 90 percent of the content they currently have' . Not long ago I was responsible for redesigning the intranet for a large local government department.
Written by James Robertson , published September 5th, 2005 Categorised under: articles , intranets The fundamental question to ask for all intranets is: what is the intranet actually for? While this is an easy question to ask, answering it meaningfully involves gaining an in-depth understanding of staff and organisational needs. While much has been written about the design of intranets, less is said about how to ensure that the intranet contains useful information and tools. At the end of the day, staff will use an intranet if it is useful.
CMb 2003-13 Written by James Robertson , published June 16th, 2003 Categorised under: articles , intranets , knowledge management Stakeholder interviews involve conducting one-on-one discussions with staff throughout the organisation.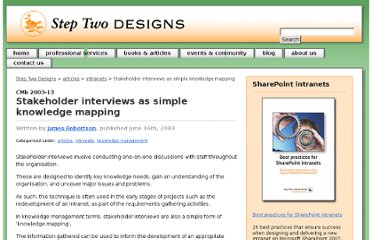 Written by James Robertson , published May 22nd, 2011 Categorised under: Design & usability guidelines , Intranets , Usability & user-centered design SharePoint is many things, but out of the box, beautiful isn't one of them. The boxy design and shades of blue isn't ugly per-se, but do little to inspire adoption and enthusiasm. It used to be said that it was too hard to make SharePoint beautiful, but the following selection of examples show otherwise (you can read more about making SharePoint beautiful in our latest report, Best practices for SharePoint intranets ): Screenshot courtesy of Kiwibank.
CMb 2008-08 Written by James Robertson , published June 17th, 2008 Categorised under: articles , intranets What is the intranet for?
Written by James Robertson , published March 30th, 2011 Categorised under: Intranets , SharePoint A lot of organisations are currently deploying SharePoint for their corporate intranet.
A common occurrence: you or someone you know wants to create content and have it published online. A slightly less common occurrence? Having that same someone articulate high aspirations for their content .
Content Strategy : This post will take 8 minutes to read
Written by James Robertson , published April 28th, 2011 Categorised under: articles , content management , document & records management , enterprise 2.0 , information management , intranets Starting a SharePoint intranet project, whether creating a new intranet or redeveloping an existing one, can be daunting.
These are my notes from Chapter 1 of Essential SharePoint 2007. I have read a few more chapters that I haven't summarized yet, but so far I highly recommend this book! Organizational acceptance factors