Crowdfunding
Crowdfunding via customers is the new startup capital. When the JOBS Act was signed in April, the startup community gave itself a collective high five.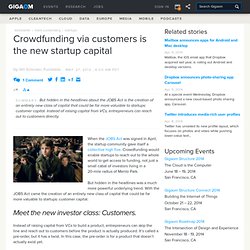 Crowdfunding would enable startups to reach out to the whole world to get access to funding, not just a small cabal of investors living in a 20-mile radius of Menlo Park. But hidden in the headlines was a much more powerful underlying trend. Crowdfunding becomes a reality for startups - GrowVC (press release) Grow VC is fixing the inefficiencies of private seed funding for web and mobile companies with a global social network and crowdfunding.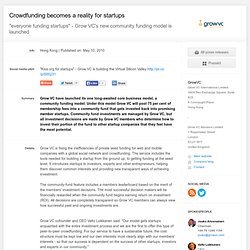 The service includes the tools needed for building a startup from the ground up, to getting funding at the seed level. It introduces startups to investors, experts and other entrepreneurs, helping them discover common interests and providing new transparent ways of achieving investment. The community-fund feature includes a members leaderboard based on the merit of the members' investment decisions. The most successful decision makers will be financially rewarded when the community fund begins earning return on investment (ROI). Welcome. Finance free software. People Fund - People Fund. Tom Dawkins's Answers on Kickstarter. Does Crowdfunding Work for Early Stage Growth Companies?
---