Twitter
Why Twitter's Great Quarter Doesn't Make It Facebook (Yet) The 7 Key Ingredients of a Powerful Twitter Bio. 148 Flares Filament.io 148 Flares × Your online reputation is your reputation.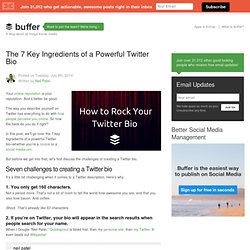 And it better be good. The way you describe yourself on Twitter has everything to do with how people perceive you online. How Mute Erodes What's Great About Twitter. ?utm_cid=Mash-Prod-RSS-Feedburner-SocialMedia-Partial&utm_reader=feedly&utm_content=bufferbf99a&utm_medium=social&utm_source=twitter. How Screwing Up on Twitter Inspired Jon Favreau's New Movie | Underwire. The 25 Most Retweeted Recruiters on Twitter. How to Opt Out of Twitter's New Photo Tagging. Why Twitter Can't Keep Crashing | Gadget Lab. Illustration: Yiying Lu Twitter was down for quite some time yesterday.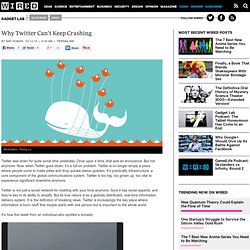 Once upon a time, that was an annoyance. But not anymore. Now, when Twitter goes down, it's a full-on problem. Twitter is no longer simply a place where people come to make jokes and drop quickie status updates. How to Engage and Learn From Twitter Chats. Have you ever wanted to get a glimpse at "the making of" a job search chat on Twitter?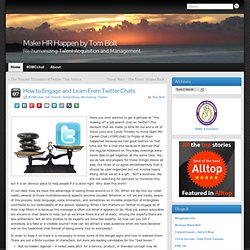 The decision that we made (a little bit me and a lot of Steve Levy and Cyndy Trivella) to move Open Mic Career Chat (#OMCchat) to Friday at Noon happened because we had good metrics on that time slot for a chat and because it seemed that the regular followers on Thursday evenings were never able to get together at the same time. Yes, we do talk and prepare for these things! Above all else, the three of us agree wholeheartedly that it should be uber-organized but not involve heavy lifting. What we do is a gift… NOT a business. We are not searching for sponsors to monetize this, but it is an obvious place to help people if it is done right. TacticsCloud: A Hot New Tool for Finding People on #Twitter. The search page looks like this: Use the Keywords field to search Twitter handles and bios.
You can also add a location parameter and save your results to lists. The Cheat Sheet tab gives you a quick primer in using "AND" and "OR" for connecting keywords. Make Twitter Your Favorite Way to Meet People. Networking on Twitter is my favorite way to meet new people.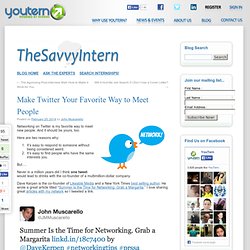 And it should be yours, too. Here are two reasons why: It's easy to respond to someone without being considered weird.It's easy to find people who have the same interests you. But…. Never in a million years did I think one tweet would lead to drinks with the co-founder of a multimillion-dollar company. The Top 10 Most Followed Resume Writers on Twitter. To get you started, I used TacticsCloud to pull together a list of the 10 Most Followed Resume Writers on Twitter.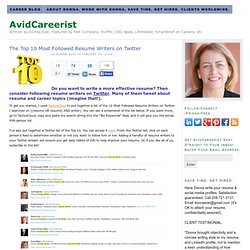 I searched on ((resume OR résumé) AND writer). You can see a screenshot of the list below. What's the Matter With Twitter? Not What Twitter Thinks. Twitter CEO Dick Costolo has 99 problems, and revenue growth ain't one.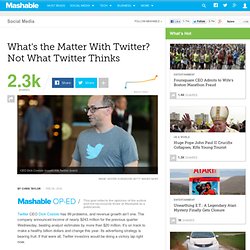 The company announced income of nearly $243 million for the previous quarter Wednesday, beating analyst estimates by more than $20 million. It's on track to make a healthy billion dollars and change this year. Its advertising strategy is bearing fruit. If that were all, Twitter investors would be doing a victory lap right now. As Stock Plummets, Twitter Finds Itself Desperate for New Users | Wired Business. Twitter CEO Dick Costolo.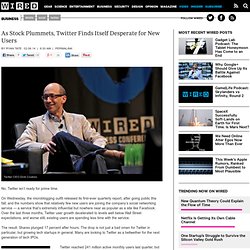 No, Twitter isn't ready for prime time. On Wednesday, the microblogging outfit released its first-ever quarterly report, after going public this fall, and the numbers show that relatively few new users are joining the company's social networking service — a service that's extremely influential but nowhere near as popular as a site like Facebook. Over the last three months, Twitter user growth decelerated to levels well below Wall Street expectations, and worse still, existing users are spending less time with the service. 80 Must-Follow Twitter Accounts 2014. By Hannah Morgan on January 3, 2014 These 80 pros consistently produce and share great quality information on Job Search & Careers I culled and mulled this list because I wanted it to be genuinely valuable to you and not a popularity contest.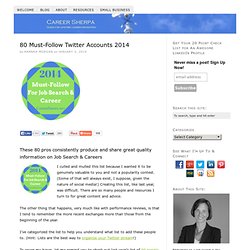 (Some of that will always exist, I suppose, given the nature of social media!) Creating this list, like last year, was difficult. There are so many people and resources I turn to for great content and advice. Here's a Quick Way to Find (and Follow) Top Influencers on Twitter. So you're new on Twitter & don't know anyone except your usual group of friends.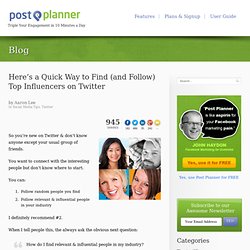 You want to connect with the interesting people but don't know where to start. You can: Follow random people you findFollow relevant & influential people in your industry I definitely recommend #2. When I tell people this, the always ask the obvious next question: This-formatting-rule-determines-whether-your-followers-1471898061?utm_content=buffer07c47&utm_medium=social&utm_source=twitter. A Hot New Tool for Finding People on #Twitter. A Hot New Tool for Finding People on #Twitter. A Hot New Tool for Finding People on #Twitter. A Hot New Tool for Finding People on #Twitter. A Hot New Tool for Finding People on #Twitter. A Hot New Tool for Finding People on #Twitter.
A Hot New Tool for Finding People on #Twitter. A Hot New Tool for Finding People on #Twitter. A Hot New Tool for Finding People on #Twitter. A Hot New Tool for Finding People on #Twitter. The 25 Most Retweeted Recruiters on Twitter. The 25 Most Retweeted Recruiters on Twitter. The 25 Most Retweeted Recruiters on Twitter. The 25 Most Retweeted Recruiters on Twitter. The 25 Most Retweeted Recruiters on Twitter. Global Twit-o-Graphic: A Visual Map Of Where (& How) People Use Twitter. So far, 2013 has been the year of expansion for Twitter, both from geographic extension and company acquisitions. Roughly 8% of the world's population is now on Twitter, and Silicon Graphics International (SGI) along with the University of Illinois and social media vendor GNIP combined forces to map this Global Twitter usage.
From this partnership, some extreme visualizations have been created that show Twitter hotbeds, communication paths and more data that you can shake a stick at. The map below shows overall global Twitter usage. To no surprise the US, Europe and Japan were the hottest points on the map. Using Twitter to Enhance Your Online Reputation - Job-Hunt.Org. I confess, Twitter is my absolute favorite social network. Most professionals view LinkedIn as essential for everyone today, job hunting or not, and I concur. But, I think that Twitter is a very close second when used appropriately. Twitter has helped me connect to the greatest number of people, and, frankly, is the most fun, interesting, and educational social network. 10 Ways to Say "Thank You" on Twitter | Interview Angel. 10 Ways to Say "Thank You" on Twitter When it comes to public expressions of social media gratitude, Twitter is in its own league.
It has effectively created the perfect storm for reciprocity where a mutual exchange of favors is not only commonplace, it is required for engagement. You follow me, I follow you. 12 helpful tips for engaging in a Twitter chat. Reputation Management Part 3: Be a Tweeter. Twitter. Retrieve Info from a Twitter Chat. The Top 10 Twitter Clients To Help You Tweet Better - Blog - Marty McPadden | Technology, Photography, Video, Social Media. 4 Tools to Explore Tweets and Personality-Type | oneforty. The Art of Writing Great Twitter Headlines. 8 Easy Ways to Network on Twitter. The Most Complete Twitter Application List Available - 2011 Edition. Best Twitter tips to improve your following. Social Media's Top Stars Share Their Tips on Twitter | Lori McNee Artist. Fantastic info. EVERYONE should use. RT @AvidCareerist, How TO Avoid the Top 10 Faux Pas Seen in #Tw. The secret to connecting on Twitter | Solutions from Design Resumes & Thoughts from Julie Walraven.
Why 150 Followers Is All You Really Need. 7 Ways to Get More Twitter Followers. Jeffbullas. 5 Twitter Tips You May Not Know. 3 Great Twitter Tools To Simplify Your Twitter Reading. Twitter Chat Schedule. When is the Best Time to Tweet? | The Social Media Guide. AvidCareerist. Measuring What Really Works on Twitter: Post Timing and Headlines. 35 ways to get more Retweets | The Twitter Tools Book. AvidCareerist. 18 Best Tools To Analyze Your Twitter Hotness. How Will Twitter's New Design Affect You? How to Brand Yourself as an Artist on Twitter | Lori McNee Artist. Getting Started on Twitter: 25 Tips to Take Advantage of the Web.
---