Bushrangers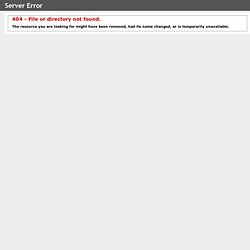 A research project by year 5 and 6 students at Herberton State Primary School 1997 Ned Kelly wearing the armour he fought his last battle in Introduction The Bushrangers of Australia's history have a special place in the hearts and imaginations of Australians. These outlaws, (highway men, or brigands as they are known in other countries) are remembered with pride and admiration rather than the contempt and hate that they probably deserve, as many were violent and ruthless criminals who made their livings by murdering and stealing.
home
KELLY GANG
The Kelly gang, as they were known, came into existence by sheer misfortune. The young men (Joe Byrne & Steve Hart) who were with Ned & Dan at Stringybark Creek at the tim e of the police shootings would become 'the Kelly gang'.
Edward (Ned) Kelly
Edward (Ned) Kelly (1855-1880), bushranger, was born in June 1855 at Beveridge, Victoria, the eldest son of John (Red) Kelly and his wife Ellen , née Quinn. His father was born in Tipperary, Ireland, in 1820 and sentenced in 1841 to seven years' transportation for stealing two pigs. He arrived in Van Diemen's Land in 1842.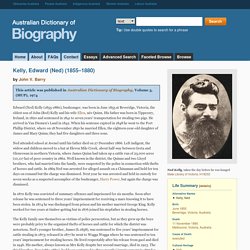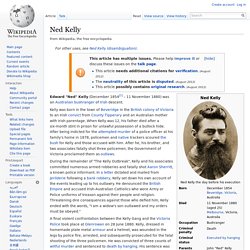 Edward " Ned " Kelly (June 1854 or 1855 – 11 November 1880) [ 1 ] was an Irish Australian bushranger . He is considered by some to be merely a cold-blooded killer, while others consider him to be a folk hero and symbol of Irish Australian resistance against the Anglo-Australian ruling class . [ 2 ] Kelly was born in Victoria to an Irish convict father, and as a young man he clashed with the Victoria Police . Following an incident at his home in 1878, police parties searched for him in the bush. After he killed three policemen, the colony proclaimed Kelly and his gang wanted outlaws .
Category:Bushrangers
NF - Bushrangers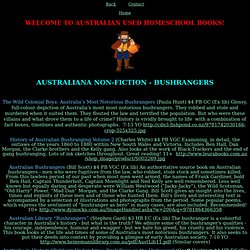 Back Contact Home The Wild Colonial Boys: Australia's Most Notorious Bushrangers (Paula Hunt) $4 PB GC (Ex lib) Glossy, full-colour depiction of Australia's most most notorious bushrangers. They robbed and stole and murdered when it suited them. They flouted the law and terrified the population. But who were these villains and what drove them to a life of crime?
Edward Davis (1816–1841) was an Australia convict turned bushranger . His real name is not certain, but in April 1832 he was convicted under the name George Wilkinson for attempting to stead a wooden till and copper coins to the total value of 7 shillings. Sentenced to seven years transportation , he arrived in Sydney on the Camden in 1833 and was placed in the Hyde Park Barracks . Over the next few years he escaped four times: on 23 December 1833 from the Barracks, on 1 December 1835 from Penrith , on 10 January 1837 from the farmer he had been assigned to, and for a final time on 21 July 1838. [ 1 ] In the summer of 1839 he formed a bushranger gang of escaped convicts which roamed in New South Wales , from Maitland to the New England Highway , in the Hunter Valley , and down to Brisbane Water near Gosford . They had a main hideout at Pilcher's Mountain, near Dungog .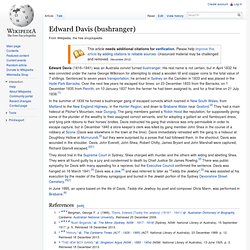 Edward Davis (bushranger)
Edward Davis (bushranger)
Edward Davis (1816-1841), Jewish convict and bushranger, is said to have been born at Gravesend, England, but this is not certain and it is doubtful that his name was Davis. In April 1832 at the Old Bailey, under the name George Wilkinson, he was sentenced to transportation for seven years for having attempted to steal a wooden till, valued at 2s. and copper coins to the value of 5s. He arrived in Sydney in February 1833 in the Camden and was put to work at Hyde Park Barracks. He escaped on 23 December 1833, was caught and was sentenced to a further twelve months.
Edward Davis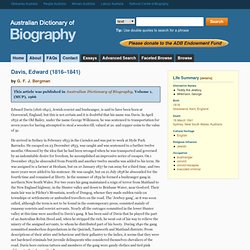 By 1830 there were so many bushrangers roaming around New South Wales that the government passed a special Act to make it easier to catch people who might be bush- rangers. The Act said: Anyone could arrest a person if he suspected him of being an escaped convict or bushranger. It was then up to the arrested per- son to prove that he was not an escaped convict.
The Bushranger Act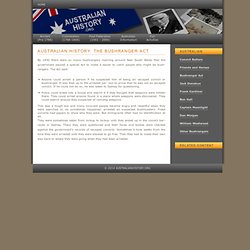 The Jew Boy Gang- Hunter Valley Bushrangers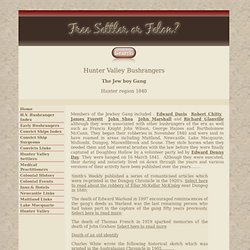 Members of the Jewboy Gang included : Edward Davis Robert Chitty James Everett John Shea John Marshall and Richard Glanville The Jew-Boy's Gang Printed in the Australasian Chronicle and Alexandra and Yea Standard, Gobur, Thornton and Acheron Expressng: (Vic. : 1877-1908) 4 August 1905 from an Historical Sketch by Charles White Here they would stay until the police grew weary, when they would again sally forth. The gang committed so many depredations in twelve or fifteen months that the Government began to realise that some special effort was needed to capture them.