Twitchboard 12
@Armano
@shelisrael. @HubSpot. @nowsourcing. @t_de_baillon. @ambercadabra. @SandyGuerriere. @rumford. @edo_au. @bostonmarketer. Four reasons why public Facebook status updates won. Gmail lab feature "Multiple Inboxes" allows you to have more than one 'inbox' in your default Gmail view.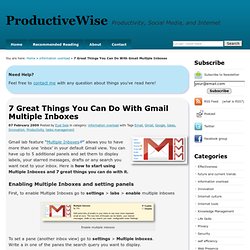 You can have up to 5 additional panels and set them to display labels, your starred messages, drafts or any search you want next to your inbox. Here is how to start using Multiple Inboxes and 7 great things you can do with it. How to Create the Abundance Mindset | Zen Habits. Editor's note: This is a guest post from Steve of Freedom Education.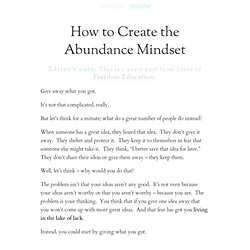 Give away what you got. It's not that complicated, really. But let's think for a minute; what do a great number of people do instead? When someone has a great idea, they hoard that idea. In my opinion, social media monitoring is one of the most important aspects to any Internet marketing initiative today.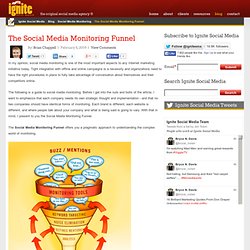 Tight integration with offline and online campaigns is a necessity and organizations need to have the right procedures in place to fully take advantage of conversation about themselves and their competitors online. The following is a guide to social media monitoring. Before I get into the nuts and bolts of the article, I want to emphasize that each company needs its own strategic thought and implementation - and that no two companies should have identical forms of monitoring. Each brand is different, each website is different, and where people talk about your company and what is being said is going to vary. Build Useful Media | chrisbrogan.com. It's usually through my own personal interests that I stumble into something else that I might want to share with you that could be helpful.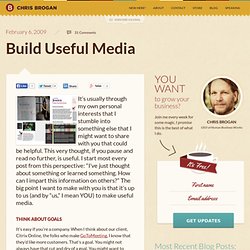 This very thought, if you pause and read no further, is useful. I start most every post from this perspective: "I've just thought about something or learned something. Image credit: josephina I encourage clients, associates and even friends to create content-rich sites for whatever they specialize in with the purpose of building an audience and forging relationships.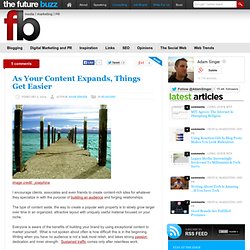 The type of content aside, the way to create a popular web property is to slowly grow larger over time in an organized, attractive layout with uniquely useful material focused on your niche. Eight Forms of Social Networking Depression: Are You Suffering? Even if you have been staring at your computer screen all day, you've likely figured out it's a scary world out there right now.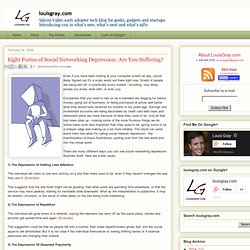 Scads of people are being laid off, in practically every market - including, very likely, people you know, work with, or even you. Companies that you used to rely on as a standard are begging for bailout money, going out of business, or being purchased at prices well below what they would have received six months or six years ago. Savings and investment accounts are being decimated as credit card debt rises and retirement plans are mere fractions of what they used to be.
And all that bad news piles up - making some of the more frivolous things we do online seem even less important than they used to be, giving some of us a sharper edge and making us a lot more irritable. The Age of Responsibility. 77 Insights From More Than A Decade On The Web, Daily. Image credit: russelldavies It's time once again to break up the longer format content I've been writing with more bite-sized thoughts.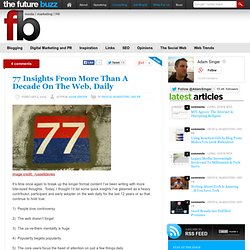 Today, I thought I'd list some quick insights I've gleamed as a heavy contributor, participant and early adopter on the web daily for the last 12 years or so that continue to hold true: 1) People love controversy. CK's Blog: BtoB Marketers, The World Is Your Web 2.0 Oyster. I work in both business and consumer environments, or "BtoB" and "BtoC" as the industry lingo goes.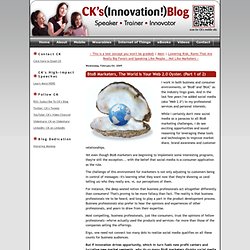 And in the last few years I've added social media (aka "Web 2.0") to my professional services and personal interests. While I certainly don't view social media as a panacea to all BtoB marketing challenges, I do see exciting opportunities and sound reasoning for leveraging these tools and technologies to improve market share, brand awareness and customer relationships. Guest article by Greg Fish (blog: world of weird things) You can't go on vacation any more without your video camera, especially if you're going some place spectacular and exciting.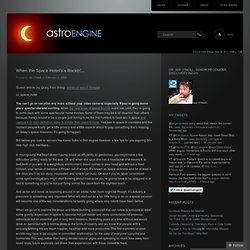 When the new wave of space tourists soars into orbit, they're going to come back with some spectacular home movies. Some of them may be a lot steamier than others because there's bound to be a couple just itching to be the first humans to have sex in space and capture it on high definition video to bolster their claim to fame. Yes, sex in space in inevitable and the moment people finally get a little privacy and a little room in which to play (something that's missing on today's space missions), it's going to happen.
But before you rush to reinvent the Kama Sutra in 360 degree freedom, a few tips for you aspiring 60+ mile high club members… In microgravity, the heart doesn't pump blood as efficiently so gentlemen, you might have a few difficulties getting ready for the task. Social Media Marketing Strategies. Marketing successfully on the social web, can be compared to cooking your favorite dish.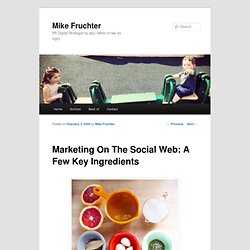 If the ingredients are just not right, or are missing, you are left with a sub-par product. It's imperative that you get the dish correct. Lack of a little salt and pepper can make or break a dish. The same can be said for social marketing, to be effective with your campaign, you can not leave out any of the key ingredients, because if you do, you're left with a sub-par marketing campaign. Don't Be Afraid To Have Opinions Or Take Sides. What makes blogs special to you? To me, it is the unique viewpoints of individuals who express their thoughts uninterrupted by editors or restrictions other than the self-imposed variety. I frequently inject opinion here and take sides. That's not really a secret and should be pretty clear if you've been reading for awhile.
I would like to think you're here not necessarily because your agree or disagree with what I write, but that you think it is worth hearing and want to learn, interact and debate with me. If you agree with everything all bloggers you read are saying, you're not reading enough blogs. The Goal is the Interaction | chrisbrogan.com. Do you want a more successful blog? Would you like to make more connections in Twitter? Are you wondering how to get more value out of your experiences online? Advanced Search. Logic Emotion: Professional Prism of Trust. WebWorkerDaily. Photo by semaphoria This is the third in a series of online community manager posts over the past couple of weeks here on WebWorkerDaily.
I've already talked about online community manager jobs and what community managers actually do, so I thought that we'd talk about what it takes to be successful as a community manager. There are skills to learn and work habits that are useful for community managers. Here are just a few of the skills and habits that people have already mentioned in the comments of the previous posts.
Amber Naslund says, "it's not a 9 to 5 gig, and it's a hybrid of so many disciplines – communication, business development, online knowledge, customer or client service." It's been far too long since I posted here, and I at least wanted to share an entry I wrote last week at Viget Engage marketing blog: Anyone who has spent time in the brand space will have certainly come across Marty Neumeier's The Brand Gap – it's one of the foundational books on how to cultivate a brand, and is a must-read for any brand manager.
The central premise of the book is that a brand is not simply a logo, identity or even product. Neither is it what you, the brand manager say it is. Rather, a "brand is a person's gut feeling about a product, service or organization.In other words, it's not what you say it is, it's what they say it is." If Twitter is good for one thing, it is support from the community. Our fine city of Louisville has been in a state of emergency and the total number of people without power in Kentucky has skyrocketed to over 1 million. And of course spammers picked this fine time to make a copycat account.
Underscore spammers have been hitting several top Twitter users, and its getting ridiculous. An Alternative to RTs on Twitter | alexking.org. 20 Great Twitter Tools for Firefox.
---