Self Improvement
Self-improvement. Learn guitar. Index of free personality tests and intelligence tests - StumbleUpon. 120 Ways to Boost Your Brain Power. Here are 120 things you can do starting today to help you think faster, improve memory, comprehend information better and unleash your brain's full potential.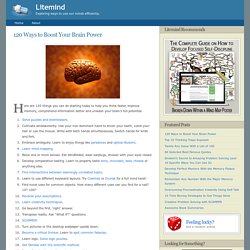 Solve puzzles and brainteasers.Cultivate ambidexterity. Use your non-dominant hand to brush your teeth, comb your hair or use the mouse. Write with both hands simultaneously. Switch hands for knife and fork.Embrace ambiguity. Time & Attention Presentation: "Who Moved My Brain?" | 43 Folder. Who Moved My Brain?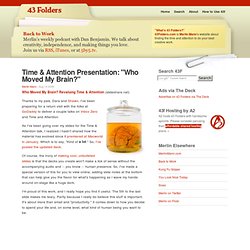 Revaluing Time & Attention (slideshare.net) Thanks to my pals, Dara and Shawn, I've been preparing for a return visit with the folks at GoDaddy to deliver a couple talks on Inbox Zero and Time and Attention. How to Use 43 Folders. A very simple guide to leaving here quickly so you can get back to making something awesome.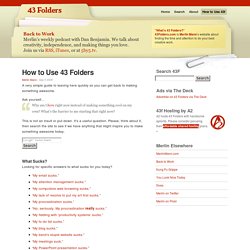 Ask yourself… Why am I here right now instead of making something cool on my own? What's the barrier to me starting that right now? Meditation. Life Hacks: Institute of Hacking. Study Guides & Strategies. 8 Things Everybody Ought to Know About Concentrating. "Music helps me concentrate," Mike said to me glancing briefly over his shoulder.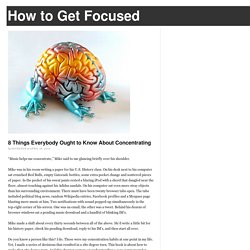 Mike was in his room writing a paper for his U.S. History class. On his desk next to his computer sat crunched Red Bulls, empty Gatorade bottles, some extra pocket change and scattered pieces of paper. In the pocket of his sweat pants rested a blaring iPod with a chord that dangled near the floor, almost touching against his Adidas sandals. 9 Tactics for Rapid Learning. Whenever the subject of why some people learn faster comes up, I get a whole host of common answers: Some people are just naturally smart.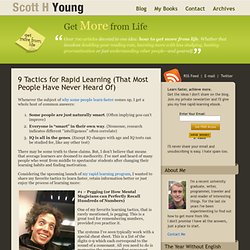 (Often implying you can't improve)Everyone is "smart" in their own way. (Nonsense, research indicates different "intelligences" often correlate)IQ is all in the genes. (Except IQ changes with age and IQ tests can be studied for, like any other test) There may be some truth to these claims. 34 Rules. Mind Maps/Thinking Maps/Graphic Organizers.