Self Improvement
H ere are 120 things you can do starting today to help you think faster, improve memory, comprehend information better and unleash your brain's full potential. Solve puzzles and brainteasers . Cultivate ambidexterity. Use your non-dominant hand to brush your teeth, comb your hair or use the mouse. Write with both hands simultaneously.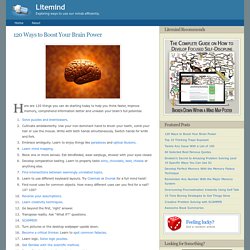 Who Moved My Brain? Revaluing Time & Attention (slideshare.net) Thanks to my pals, Dara and Shawn , I've been preparing for a return visit with the folks at GoDaddy to deliver a couple talks on Inbox Zero and Time and Attention.
Time & Attention Presentation: "Who Moved My Brain?" | 43 Folder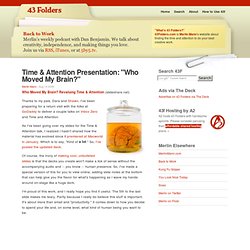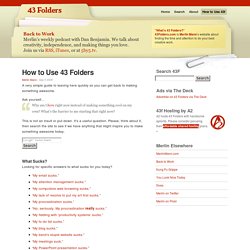 A very simple guide to leaving here quickly so you can get back to making something awesome. Ask yourself… Why am I here right now instead of making something cool on my own? What's the barrier to me starting that right now?
Life Hacks: Institute of Hacking
"Music helps me concentrate," Mike said to me glancing briefly over his shoulder.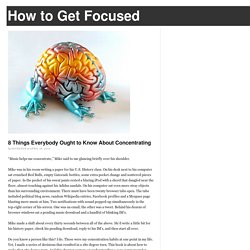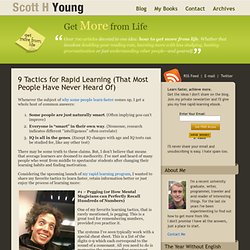 Whenever the subject of why some people learn faster comes up, I get a whole host of common answers: Some people are just naturally smart . (Often implying you can't improve) Everyone is "smart" in their own way . (Nonsense, research indicates different "intelligences" often correlate) IQ is all in the genes . (Except IQ changes with age and IQ tests can be studied for, like any other test) There may be some truth to these claims.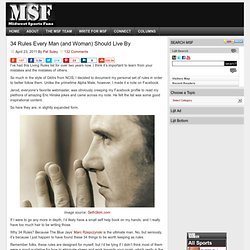 I've had this Living Rules list for over two years now. I think it's important to learn from your mistakes and the mistakes of others. So much in the style of Gibbs from NCIS, I decided to document my personal set of rules in order to better follow them. Unlike the primetime Alpha Male, however, I made it a note on Facebook. Jerod, everyone's favorite webmaster, was obviously creeping my Facebook profile to read my plethora of amazing Eric Hinske jokes and came across my note. He felt the list was some good inspirational content.
Mind Maps/Thinking Maps/Graphic Organizers