ACV
Cet arbre est juste destiné à m'aider dans une recherche sur les éléments qui améliorent la récupération post ACV.
Description and evaluation of an acute stroke unit. + Author Affiliations Correspondence to: Dr.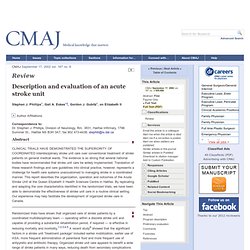 Stephen J. Phillips, Division of Neurology, Rm. 3831, Halifax Infirmary, 1796 Summer St., Halifax NS B3H 3A7; fax 902 473-4438; stephill@is.dal.ca Abstract. EBRSR: Evidence-Based Review of Stroke Rehabilitation. Can differences in management processes explain diffe... [Lancet. 2001. Stroke Unit Treatment : 10-Year Follow-Up. 10-Year Follow-Up + Author Affiliations Abstract.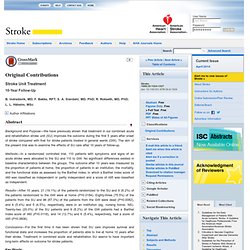 Patient outcomes and length of stay in a stroke u... [Med J Aust. 2003. Archives of Physical Medicine and Rehabilitation - Team Training and Stroke Rehabilitation Outcomes: A Cluster Randomized Trial. Strasser DC, Falconer JA, Stevens AB, Uomoto JM, Herrin J, Bowen SE, Burridge AB.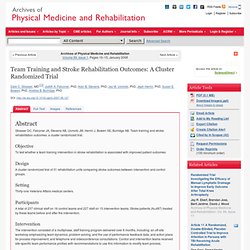 Team training and stroke rehabilitation outcomes: a cluster randomized trial. Objective To test whether a team training intervention in stroke rehabilitation is associated with improved patient outcomes. Design A cluster randomized trial of 31 rehabilitation units comparing stroke outcomes between intervention and control groups. Changes in stroke care at Auckland Hospital between 1996 and 2001. Changes in stroke care at Auckland Hospital between 1996 and 2001 Alan Barber, Alison Charleston, Neil Anderson, David Spriggs, Derek Bennett, Patricia Bennett, Kirsty Thomas, and Yvette Baker In 1996, we published an audit of stroke care in Auckland Hospital.1 At that time there was no organised inpatient stroke care in our hospital.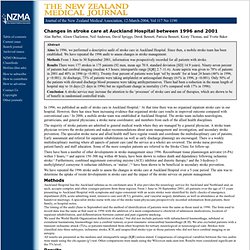 However, there has since been increasing evidence that organised stroke care results in improved outcome compared with conventional care.2 In 2000, a mobile stroke team was established at Auckland Hospital. The stroke team includes neurologists, geriatricians, and general physicians; a stroke nurse coordinator; and members from each of the allied health disciplines. Stroke Unit Care and Outcome. Results from the 2001 National Sentinel Audit of Stroke (England, Wales, and Northern Ireland) A.G.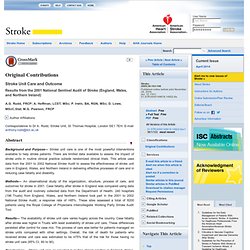 Rudd, FRCP; A. Hoffman, LCST, MSc; P. Irwin, BA, RGN, MSc; D. Lowe, MScC.Stat; M.G. Research into the black box of rehabilitation: the risks of a Type III error. Type I and Type II errors in the interpretation of data from clinical trials concern statistical matters, and the probability of drawing erroneous conclusions from inadequate data.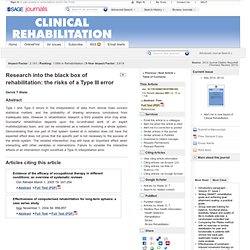 However in rehabilitation research a third possible error may arise. Successful rehabilitation depends upon the co-ordinated work of an expert multidisciplinary team, and can be considered as a network involving a whole system. Demonstrating that one part of that system looked at in isolation does not have the expected effect does not prove that the specific part is not necessary to the success of the whole system.
The isolated intervention may still have an important effect when interacting with other variables or interventions. Unpacking the black box of therapy – a pilot study to describe occupational therapy and physiotherapy interventions for people with stroke. C Ballinger A Ashburn P Roderick.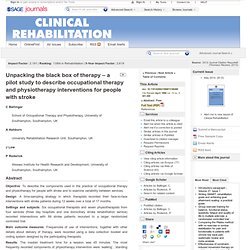 Facilitating recovery: evidence for organized ... [J Rehabil Med. 2007. Very Early Mobilisation and Complications in the First 3 Months after Stroke: Further Results from Phase II of A Very Early Rehabilitation Trial (AVERT) General Please address all your queries or problem reports to the Pay-per-View Customer Service at info@karger.com referring to PPV or PPV account. 1.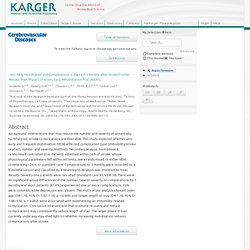 All payments are by credit card only. The transaction is secure: standard-procedure SSL or SET are used and all data are encrypted. No separate invoice is issued/sent, only a confirmation/receipt message with key details of the transaction. Stroke.ahajournals.org/content/39/2/414.full.pdf. Does the Prevention of Complications Explain the Survival Benefit of Organized inpatient care ? Govan.
---