Skills
Re: Bruce Lee playing ping pong Video
ABERRICAN ME - Ross Capicchioni - Part 2
ABERRICAN ME - Ross Capicchioni - Part 1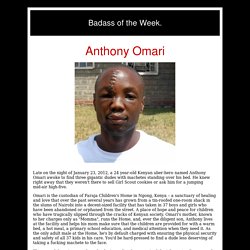 Anthony Omari Late on the night of January 23, 2012, a 24 year-old Kenyan uber-hero named Anthony Omari awoke to find three gigantic dudes with machetes standing over his bed. He knew right away that they weren't there to sell Girl Scout cookies or ask him for a jumping mid-air high-five. Omari is the custodian of Faraja Children's Home in Ngong, Kenya – a sanctuary of healing and love that over the past several years has grown from a tin-roofed one-room shack in the slums of Nairobi into a decent-sized facility that has taken in 37 boys and girls who have been abandoned or orphaned from the street. A place of hope and peace for children who have tragically slipped through the cracks of Kenyan society.
Badass of the Week: Anthony Omari
hang cousins best of hang duo 2009
BIRDMAN IN LISBON, PORTUGAL - Claudio Montuori
Amazing Rube Goldberg Device Video
Sarah Kay performs " B "
The Night Before Christmas Video
Pale kid raps fast