Skills
Re: Bruce Lee playing ping pong Video. Log in donchum Re: Bruce Lee playing ping pong posted 3 years ago Tiffany liked this atadams80 liked this Joshua Byrd liked this Tyler Terrell liked this James liked this Anu Godara liked this aditya saini liked this liz_almonte liked this 7irz liked this Sandi Marcoux liked this gia_reneee liked this BigBrian liked this mysonjon2000 liked this seldamat liked this mjollnir_heimdall liked this im_ran_saqib liked this Dame liked this sita liked this InternetHandle liked this douglas crowley liked this Diana Sanchez liked this maxwest1957 liked this © 2014 Redux, Inc.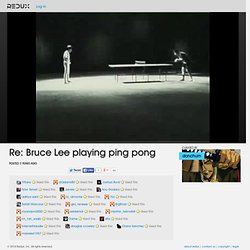 ABERRICAN ME - Ross Capicchioni - Part 2. ABERRICAN ME - Ross Capicchioni - Part 1. Badass of the Week: Anthony Omari. Anthony Omari Late on the night of January 23, 2012, a 24 year-old Kenyan uber-hero named Anthony Omari awoke to find three gigantic dudes with machetes standing over his bed.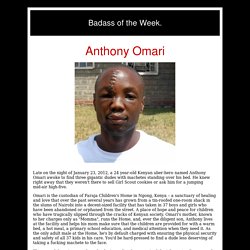 He knew right away that they weren't there to sell Girl Scout cookies or ask him for a jumping mid-air high-five. Omari is the custodian of Faraja Children's Home in Ngong, Kenya – a sanctuary of healing and love that over the past several years has grown from a tin-roofed one-room shack in the slums of Nairobi into a decent-sized facility that has taken in 37 boys and girls who have been abandoned or orphaned from the street. A place of hope and peace for children who have tragically slipped through the cracks of Kenyan society. Hang cousins best of hang duo 2009.
BIRDMAN IN LISBON, PORTUGAL - Claudio Montuori. Amazing Rube Goldberg Device Video. Sarah Kay performs " B " The Night Before Christmas Video. Pale kid raps fast.
---