Tudások, ismeretek
Zheng He (Terebess Ázsia Lexikon)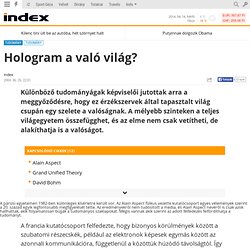 Különböző tudományágak képviselői jutottak arra a meggyőződésre, hogy ez érzékszervek által tapasztalt világ csupán egy szelete a valóságnak. A mélyebb szinteken a teljes világegyetem összefügghet, és az elme nem csak vetítheti, de alakíthatja is a valóságot. A párizsi egyetemen 1982-ben különleges kísérletre került sor. Az Alain Aspect fizikus vezette kutatócsoport egyes vélemények szerint a 20. század egyik legfontosabb megfigyelését tette.
Tudomány - Hologram a való világ?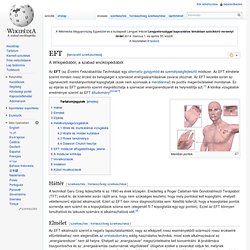 Az EFT (az Érzelmi Felszabadítás Technikája ) egy alternatív gyógymód és személyiségfejlesztő módszer. Az EFT elmélete szerint minden rossz érzést és betegséget a szervezet energiaáramlásának zavarai okoznak. Az EFT kezelés során az úgynevezett meridiánpontokat kopogtatják (ezek nem azonosak a meridiánnal ) és pozitív megerősítéseket mondanak.
EFT
Community organizing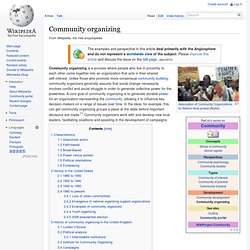 Community organizing is a process where people who live in proximity to each other come together into an organization that acts in their shared self-interest. Unlike those who promote more-consensual community building , community organizers generally assume that social change necessarily involves conflict and social struggle in order to generate collective power for the powerless. A core goal of community organizing is to generate durable power for an organization representing the community , allowing it to influence key decision-makers on a range of issues over time. In the ideal, for example, this can get community organizing groups a place at the table before important decisions are made. [ 1 ] Community organizers work with and develop new local leaders, facilitating coalitions and assisting in the development of campaigns.
Közösségszervezés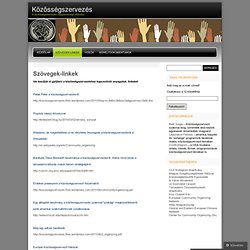 Ide kezdjük el gyűjteni a közösségszervezéshez kapcsolódó anyagokat, linkeket Peták Péter a közösségszervezésről: http://kozossegszervezes.files.wordpress.com/2011/05/pp-kc3b6zc3b6ssc3a9gszervezc3a9s.doc
Szövegek-linkek « Közösségszervezés
Introduction to Organizing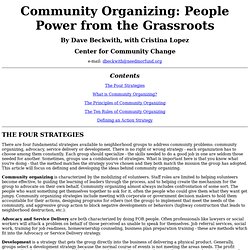 Community Organizing: People Power from the Grassroots By Dave Beckwith, with Cristina Lopez Center for Community Change e-mail: dbeckwith@needmorfund.org
Introduction to Organizing
collective-intelligence 1
collective-intelligence 2