EarthshipCommunity
Get flash to fully experience Pearltrees
Project La Suelo Arca, Spain La Suelo Arca (The Soil Ark) is a project with the intention to create a self sustainable, International community on the East Coast of Spain in 2012/2014. To achieve this, La Suelo Arca is based on two important principals: 1) High-tech/low-cost, self sustainable Eco houses: Earthship - by Michael Reynolds 2) Harmonic social co-existence: Non-violent Communication - by Marshall B.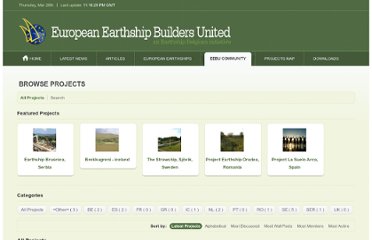 American architect Michael Reynolds, founder of the 'Earthship' movement is visiting Christchurch to offer innovative ideas for Christchurch's rebuilding process.
Christchurch has been through a hard time, do doubt. Its been over 2 years since the worst quake, which threw the city into chaos and its residents into turmoil.