Cheap accomodations
Preview hosts | WWOOF UK. Preview hosts | WWOOF UK. Beautiful coastal situation with priority given to organic vegetable and fruit production; woodland; water; moorland and ecological activity.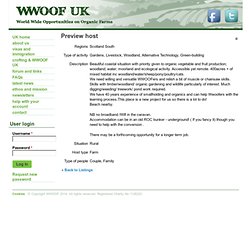 Accessible yet remote. 400acres + of mixed habitat inc woodland/water/sheep/pony/poultry/cats. We need willing and versatile WWOOFers and relish a bit of muscle or chainsaw skills. Skills with timber/woodland/ organic gardening and wildlife particularly of interest. Much digging/weeding/ treework/ pond work required. We have 40 years experience of smallholding and organics and can help Wwoofers with the learning process.This place is a new project for us so there is a lot to do! Preview hosts | WWOOF UK. WWOOF - World Wide Opportunities on Organic Farms. GlobalFreeloaders.com / The Worldwide Free Accommodation Network. Staydu.com | host and travel for money, for work or for free. Free Accommodation world wide through Hospitality Exchange - Hospitality Club. People to meet. Places to stay - Couch Surfing, Free Homestays, and Travel Tips.
Hostel & Hotel in Berlin Mitte: The Circus Berlin Mitte. Hostel and budget accommodation bookings around the globe | Gomio. CouchSurfing – The world's largest travel community.
---