Sci-Fi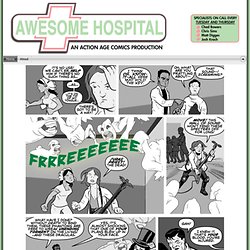 With this, Josh and Matt's Fearsome Hospital comes to a close! We hope you've enjoyed this little resurrection, and if you have, check out some of our other work together! Chad, Chris and Josh are currently working on Subatomic Party Girls with artist Erica Henderson, and the upcoming graphic novel Down Set Fight with artist Scott Kowalchuk! Matt is currently hard at work on another project with Chad and Chris, and hopefully we'll have some news about that soon!
Awesome Hospital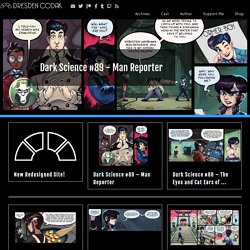 New Site- The Silmarillion Project January 20th, 2014 Happy New Year, everybody! I've got some great news upcoming Dresden Codak in the next couple weeks, but for now I'd like to announce a new official side gig: The Silmarillion Project. I'm essentially illustrating every chapter of J.R.R. Tolkien's Silmarillion, but also developing a comprehensive world and design that nobody else has yet to attempt.
Part 1: Rebooting the Justice League Part 2: Rebooting the Legion of Doom So for the final installment of my "New DC" reboots, I thought I'd take a look at Batman and friends. In some ways these are probably the least drastic of my redesigns (Batman's been handled better than a lot of DC's other properties), but I think the changes I have made are important ones. (You'll also note that I did do a shorter Batman redesign not long ago, and for clarity's sake this post is basically expanding on those basic ideas).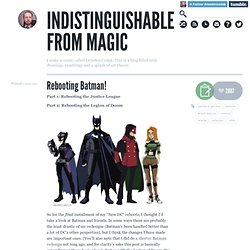 Rebooting Batman!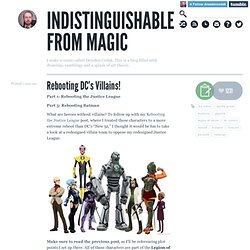 Part 1: Rebooting the Justice League Part 3: Rebooting Batman What are heroes without villains? To follow up with my Rebooting the Justice League post, where I treated those characters to a more extreme reboot than DC's "New 52," I thought it would be fun to take a look at a redesigned villain team to oppose my redesigned Justice League: Make sure to read the previous post, as I'll be referencing plot points I set up there.
Rebooting DC's Villains!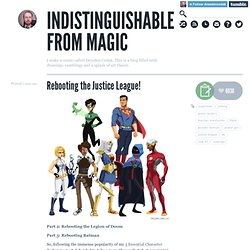 Part 2: Rebooting the Legion of Doom Part 3: Rebooting Batman So, following the immense popularity of my 5 Essential Character Redesigns post, I decided to take a more thorough stab at revamping DC Comic's Justice League. I've already mentioned before that I think their current "New 52" reboot, aimed at gaining new readers, is terribly ineffective, so I will attempt to present DC's top characters in a way that achieves the basic goals that a reboot should: Make the characters appealing to new readers, not just old onesCreate new story opportunities while staying true to the core themesUpdate, correct and redesign where necessary With these goals in mind, here's my take.
Blade Kitten
Space Captain Steve's - Blade Kitten Website Download the Mayhem! September 2010 Xbox Live PSN Atari Steam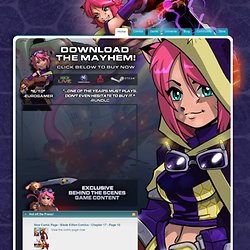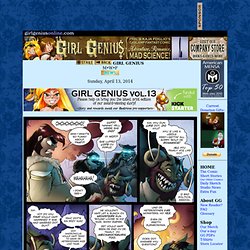 Girl Genius is written by Professors Phil & Kaja Foglio of TPU, with drawings by Prof. P. Foglio. Volume One was inked by Brian Snoddy.
Darkstar Studios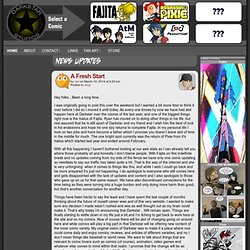 Hey all, long time no blog entry, I know. But I've finally managed to pry myself away from the drawing board long enough to spill the beans on a few bits of big, exciting news. Firstly, that if you haven't already deciphered the glyph I had up on site for a bit, I'm very happy to let all of you know that Fajita will, in fact, be resuming it's run with chapter Number 12 on: It's been a long wait, the excitement is running high, and let me be the first to tell you, this may well be most unpredictable chapter so far. It's been a wild thing to work on and I'm super excited to start sharing it.
New Adventures WithOccasional Updates Written, Lettered & Createdby Benny R. PowellPencil Artwork by Weilin YangFinishes by Youjun YangColors by Kun Song <a href="http://waywardsons.disqus.com/?url=ref">View the discussion thread.</a>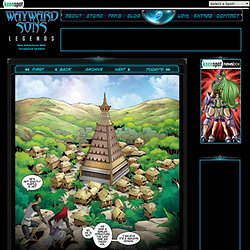 SUPERNOVAS