Cooking
Pumpkin Pie Ice Cream. DIY Infused Olive Oils. I'm really excited about Christmas this year.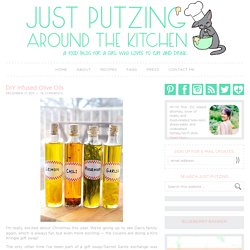 We're going up to see Dan's family again, which is always fun, but even more exciting — the cousins are doing a Kris Kringle gift swap! The only other time I've been part of a gift swap/Secret Santa exchange was freshman year of college, and I remember it being a lot of fun. There's something really exhilarating about sneaking around behind someone's back, gathering data and trying to figure out what they want for Christmas… The only problem with being Secret Santa for Dan's cousins is that I don't know all of them that well. Over the years I've tended to have more interactions with some than others – nothing personal, just a timing/geography thing.
Microwave food
Baking. How To Make a Bento Box for Kids. Aug05 by Guest Contributor Our Guest Contributor is Wendy Copley of Wendolonia.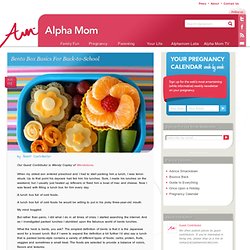 When my oldest son entered preschool and I had to start packing him a lunch, I was terror-struck. Most favorited. Homemade Junk Food | Spark. Homemade Twix bars.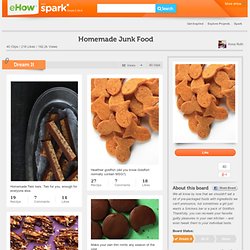 Two for you, enough for everyone else. 19 Reclips 14 Likes Healthier goldfish (did you know Goldfish normally contain MSG?) 32 Colorful Rainbow Food Designs from The Endearing Designer : Design Tips, Tricks, Tutorials, Tools and More... Summary: A mouth-watering display of rainbow-colored foods… [dropcap style="2"]W[/dropcap]e are spoiled by choice.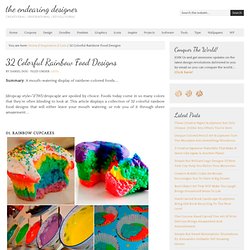 Foods today come in so many colors that they're often blinding to look at. This article displays a collection of 32 colorful rainbow food designs that will either leave your mouth watering, or rob you of it through sheer amazement… The Londoner: Slutty Brownies. Now I don't want to over sell this, so I'm going to be conservative and simply say, that these are...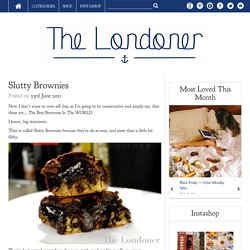 The Best Brownies In The WORLD. I know, big statement. They're called Slutty Brownies because they're oh so easy, and more than a little bit filthy. They're best served warm from the oven, with good quality vanilla ice cream (devastatingly I didn't have any in the freezer this time, so I guess I'll just have to make them again). They take about 45mins to make, including baking time. 100 Ways to Cook... Kitchen Helpers. I found these helpful charts last week and just had to share!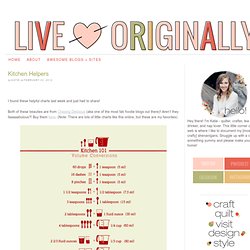 Both of these beauties are from Chasing Delicious (aka one of the most fab foodie blogs out there)! Aren't they faaaaabulous?! Buy them here. (Note: There are lots of little charts like this online, but these are my favorites). Watermelon Lime Sorbet Slices. A sweet and tangy watermelon lime sorbet is a great way to cool off in the summer.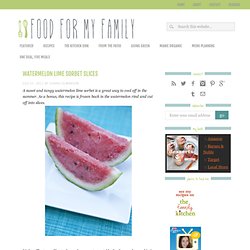 As a bonus, this recipe is frozen back in the watermelon rind and cut off into slices. It's hot. The type of heat where when you step outside the door and your skin is wet before the door swings shut behind you. It's a hot that hangs in the air, letting you breathe it in, that is cured only by two things: being completely immersed in water or hiding indoors, the air conditioning cranked as far as it will go.I find that the heat makes me very unmotivated to do things like take a walk, water and weed the garden (though I have forced that one on myself) and prepare food and eat it. Orangettes. Saturday, November 18, 2006 How to make orangettes: Slice ends off four oranges, score the peel from one end to the other, and remove the peels from the oranges.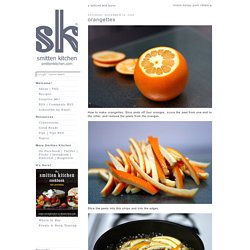 Slice the peels into thin strips and trim the edges. Using a medium size pot, place the peels in boiling water and blanch them for a few minutes. Rinse the peels, and repeat this process a second time. This is done to remove the bitterness of the peels. Now youre cooking with comics. Encyclopedia of spices @ The EpicentreThe Epicentre. What goes into making chocolate bowls. Leave it up to me to mess up every recipe in the world... but on the flipside, by experiencing everything that goes wrong, I end up learning the most.I had seen these bowls from Stephanie's Kitchen, and decided it was a fantastic idea for my food independent study. ingredients: chocolate, and balloons!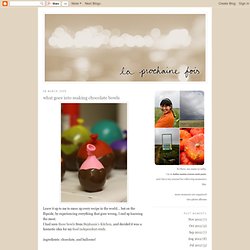 First, a giant bar of chocolate all the way from taiwan! And it's -special- grade, whatever that means. (i actually tried to pipe pretty lacy chocolate bowls first, but uh, that completely failed so i moved on. plus i don't like that pink fake chocolate.) Know your apples: The spectrum of apple flavors. Anonymous said...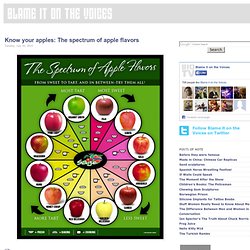 Saved to my iPhone for future reference. THANKS! July 20, 2010 at 4:39 PM the only one i like is granny smith ha ha.. Baked Eggs in Bread Bowls. This was our breakfast Sunday morning. Aren't they cute? They were very, very good. Know your apples: The spectrum of apple flavors. 32 Colorful Rainbow Food Designs from The Endearing Designer : Design Tips, Tricks, Tutorials, Tools and More... Copycat ~ Clone Brand Name & Restaurant Recipes. If you've ever tasted an Italian sub (sandwich) from New England, you know the amazing flavor of a REAL Sub. The light bread that is soft on the inside, but not chewy and has light layers along the sides. It's an extraordinary sandwich that compliments any filling crammed within it, but... if you venture out of New England chances are slim that you'll be able to enjoy the taste... until Now. Here's a copycat recipe for New England Italian rolls, fresh from a Mainer who's moved south! ... 100 Delicious, Dirt-Cheap Recipes for the Starving Student.
Most students don't have a lot of cash to spend on food, but that doesn't mean you have to go hungry. With the right recipes and some kitchen savvy, you can eat great even on a student's budget. Here we'll share 100 tasty recipes that you can make on the cheap. Along with saving money on meals, budget-savvy students can also save big on a college education by attending inexpensive online colleges.
Breakfast Get a good start to your day with these cheap-o breakfasts. 100 Ways to Use Strawberries. Strawberry season comes but once a year, and before you know it, you've spent way too much at the farmers' market buying an entire flat of them, only to panic when you remember they go bad faster than bananas. So what to do with all those juicy little red guys? Oh we've got your covered… Click on the photos for full recipes.
Chinese Tea Eggs. Eggs, how do I love thee? Let me count the ways. I love thee soft-boiled with some kaya toast dipped into the runny yolk. And scrambled with some herbs and melty cheese. And simply cooked over-medium in melted butter. I love eggs any way, any time of the day. Strawberry Margarita Jell-O Shooters. Such Pretty Things: Sugar Hearts. Character Bentos | yonasu.com. Eat Well, Spend Less: Homemade Substitutes for Grocery Staples. Common Ingredient Substitutions Article. Yogurt-Fruit Smoothie - Healthy Milk Shakes and Smoothies. How To: Make Homemade Fruit Roll-Ups. Top 25 Delicious Breakfast Hacks | Life Hacks. Lemon Drop Jelly Shots.
My Food Looks Funny - best-of-the-week - Funny Food Photos. Crock Pot Honey Sesame Chicken. Stay hungry my friends. Top 10 Awesome Dips | Food Hub. Make Your Own Strawberry Banana Fruit Leather. Best Steak Marinade in Existence Recipe. How to make homemade ice cream in a baggie.
---