Breakfast
Buttermilk Blueberry Breakfast Cake | alexandra's kitchen — recipes, photos, food - StumbleUpon. I swear buttermilk is magic.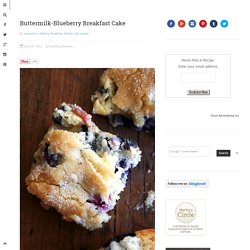 I've dwelled on this before. Buttermilk seems to turn everything to gold. Super-moist, super-delicious gold. Anyway, I needed a simple, summery, breakfasty, cake-like-but-not-dessert-like recipe to make this morning. Sweet filled buns. I did a quick search so as not to clutter this board with redundant posts but only found post about savory filled buns.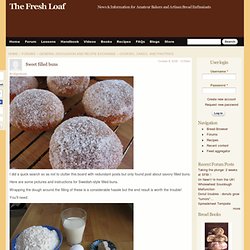 Here are some pictures and instructions for Swedish-style filled buns. Wrapping the dough around the filling of these is a considerable hassle but the end result is worth the trouble! You'll need: about 2 1/2 cups of flour (you'll need to judge the exact amount by the dough's consistancy), 3/4 cup whole milk, an egg, 5 tablespoons butter, 25 grams cake yeast, 3 tablespoons sugar. The Comfort of Eggs in a Basket | The Paupered Chef - StumbleUpon. Eggs in a basket was the first meal I ever cooked.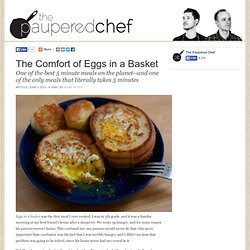 I was in 5th grade, and it was a Sunday morning at my best friend's house after a sleepover. We woke up hungry, and for some reason his parents weren't home. This confused me--my parents would never do that--but more important than confusion was the fact that I was terribly hungry, and I didn't see how that problem was going to be solved, since his house never had any cereal in it. Good for you breakfast loaf & Haute Box - StumbleUpon. March 23, 2011 by allison n Raise your hand if you enjoy a warm slice chunk of quick bread in the morning or as a snack?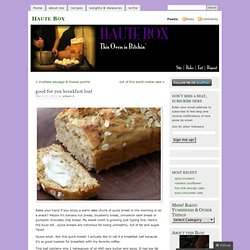 Maybe it's banana nut bread, blueberry bread, cinnamon swirl bread or pumpkin chocolate chip bread. My sweet tooth is growing just typing this. Here's the buzz-kill….quick breads are notorious for being unhealthy…full of fat and sugar. Yipes! The Baker Chick: Cinnamon Roll Pancakes - StumbleUpon. There are certain recipes that when I see I absolutely have to make.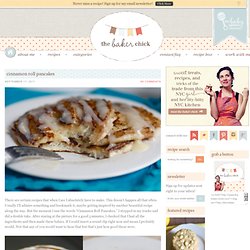 This doesn't happen all that often. Usually I'll admire something and bookmark it, maybe getting inspired by another beautiful recipe along the way. But the moment I saw the words "Cinnamon Roll Pancakes," I stopped in my tracks and did a double take. After staring at the picture for a good 5 minutes, I checked that I had all the ingredients and then made these babies. Red Velvet Crêpes | Duhlicious - StumbleUpon.
I rolled my eyes at the red velvet cake trend, but now I can't get enough.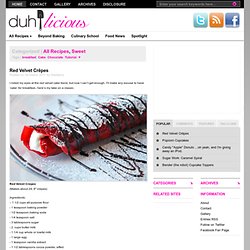 I'll make any excuse to have 'cake' for breakfast– here's my take on a classic. Red Velvet Crepes (Makes about 24, 8″ crepes) Ingredients: – 1 1/2 cups all-purpose flour - 1 teaspoon baking powder - 1/2 teaspoon baking soda - 1/4 teaspoon salt - 3 tablespoons sugar - 2 cups butter milk - 1 1/4 cup whole or lowfat milk - 1 large egg - 1 teaspoon vanilla extract - 1 1/2 tablespoons cocoa powder, sifted - 1 tablespoon red food color gel - 2 tablespoons unsalted butter, melted + 2 tablespoons cooking oil (for pan) *Update: Because the buttermilk lends to the acidity of this batter, do not substitute the baking soda for extra baking powder.
If you add more baking powder, and omit the baking soda, you'll end up with a heavy and dense crepe.
---