Government
As a collaborating centre for the IAEA, the Philippine Nuclear Research Institute (PNRI) is active in the development and application of the Receptor Binding Assay (RBA) technique to control "red tides". This video presents an update from the field. Access to sufficient water supplies is essential for successful and sustainable farming. Without water, crops die, farmers lose their income and people go hungry. Agriculture that depends upon rainwater represents about 80 % of the total area under cultivation and produces the majority, or about 60%, of global food.
International Atomic Energy Agency (IAEA) :: Case Closed - Removing Serbia's Nuclear Fuel
Attention Colorado consumers: The Recharge Colorado rebate program is officially closed. Any rebate applications submitted after October 31, 2011 are not eligible. Please contact your local utility provider for available rebates or incentives offered through the local utility programs. You may also log on to DSIREUSA.org for an exhaustive list of financial incentives and policies for renewable energy and energy efficiency.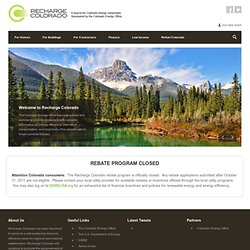 RECHARGECOLORADO.COM
National Commission on Energy Policy | Bipartisan Policy Center
Lower prices pull down natural gas reserves in 2012 › Low natural gas prices drove down U.S. proved reserves in 2012, despite notable gains in the Marcellus and Eagle Ford shale gas plays. The decline stopped a 14-year trend of consecutive increases in natural gas reserves, according to newly published estimates in EIA's U.S. Crude Oil and Natural Gas Proved Reserves 2012. More›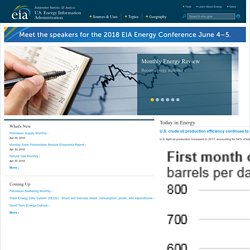 Energy & Environment
U.S. Senate Committee on Energy and Natural Resources April May 1, 2014 FULL COMMITTEE HEARING: Short on Gas: A look into the propane shortages this winter. view more events Senior Democratic Member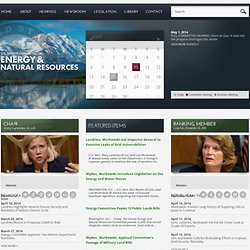 U.S. Senate Committee on Energy and Natural Resources
House Energy and Commerce Committee Republicans
Building on the committee's bipartisan success in the public health arena, the House approved the Children's Hospital Graduate Medicare Education Support Reauthorization Act, legislation championed by Health Subcommittee Chairman Joe Pitts (R-PA) and Ranking Member Frank Pallone (D-NJ) and authored by Senator Bob Casey (D-PA). This bill, first passed in 1999, provides support to children's hospitals for their pediatric medical residency programs. More here.