Benchmarking
Patent Lens Home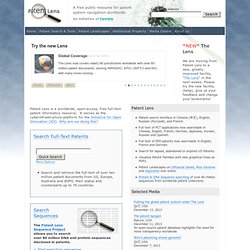 Patent Lens is a worldwide, open-access, free full-text patent informatics resource. It serves as the cyberinfrastructure platform for the Initiative for Open Innovation (IOI). Why are we doing this? Search and retrieve the full-text of over ten million patent documents from US, Europe, Australia and WIPO, their status and counterparts up to 70 countries.
Ranking and Awards Individual Landing | PROFITguide.com
FORTUNE 500 2007: FORTUNE annual ranking of America's largest corporations
Business Intelligence Structure, Company Directory News, Corporate Family - LexisNexis
The Boston Globe (January 17, 2014) TRENTON, N.J. — Johnson & Johnson said Thursday that it has been offered $4.15 billion by Carlyle Group for its Ortho-Clinical Diagnostics business, a year after J&J began reviewing options for the blood-testing unit as part of a routine pruning of its extensive family of businesses. NEW YORK — The security breach that hit Target Corp. during the holiday season appears to have been part of a broader and highly sophisticated scam that potentially affected a large number of retailers, according to a report published by a global cyber intelligence firm that works with the US Secret Service and the Department of Homeland Security. NEW YORK — Intel's fourth-quarter net income rose 6 percent as the company offset flat demand for its personal computer chips with higher sales of other products.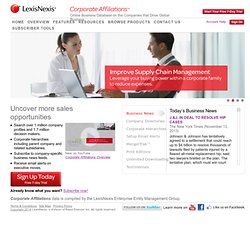 Calculators
State Sales Tax Rates