Pracs
In the next instalment of our Urban Greening column, Sam Adams¹ looks at the best veggies to grow this spring.² In the southern hemisphere, the first of September is officially the beginning of spring. This is the time to be planting the vegetables that will feed you throughout summer and the early stages of autumn.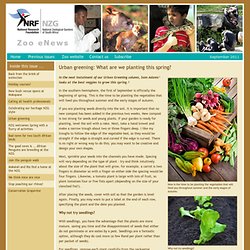 National Zoological Gardens of South Africa
Global Information System on Water and Agriculture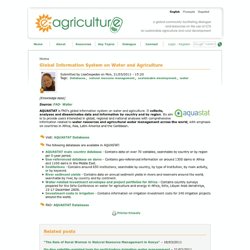 [Knowledge base] Source: FAO- Water AQUASTAT is FAO's global information system on water and agriculture. It collects, analyses and disseminates data and information by country and by region. Its aim is to provide users interested in global, regional and national analyses with comprehensive information related to water resources and agricultural water management across the world, with emphasis on countries in Africa, Asia, Latin America and the Caribbean. Visit: AQUASTAT Databases
On many occasions, we've been tempted to grow our own potatoes. They're fairly low maintenance, can be grown in a pot or in the ground, last a fairly long time if stored properly, and can be very nutritious (high in potassium and vitamin C). Here's more incentive: according to this article, you can grow 100 pounds of potatoes in 4 sq. feet.