Anonymous
Anonymous gives you LulzXmas
FreeB.E.A.G.L.E.S.: Legal Advice for Activists (v4)
Hackers target Mexico government websites
DHS warns of planned Anonymous attacks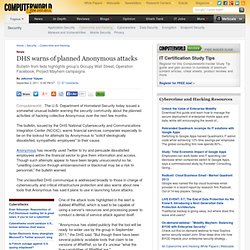 News September 2, 2011 12:40 PM ET Computerworld - The U.S.
Congratulations to the Dateline NBC reporter who didn't register as press for Defcon and worked "undercover."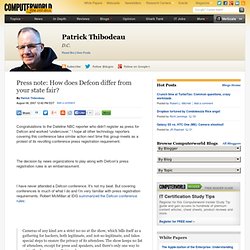 Press note: How does Defcon differ from your state fair?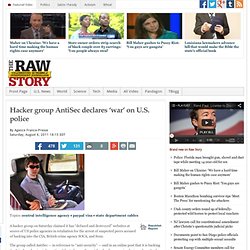 By Agence France-Presse Saturday, August 6, 2011 18:15 EDT A hacker group on Saturday claimed it has "defaced and destroyed" websites at scores of US police agencies in retaliation for the arrest of suspected peers accused of hacking into the CIA, British crime agency SOCA, and Sony. The group called AntiSec — in reference to "anti-security" — said in an online post that it is backing its claim by releasing information it looted more than 70 local police agencies during cyber attacks.
Hacker group AntiSec declares 'war' on U.S. police
LAS VEGAS — The online vigilante groups Anonymous and LulzSec are weakening their cause with scattershot attacks and need to get more intelligent and focused, according to a panel of computer security experts at the DefCon hacker conference in Las Vegas.
Researchers: Anonymous and Lulzsec Need to Focus their Chaos | Threat Level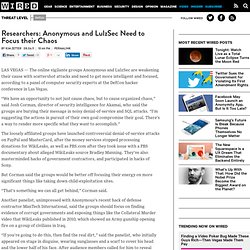 A group of online hackers says it has gained access to more than 70 law enforcement agency websites in the United States, obtaining emails, credit card information and other sensitive data in retaliation for the arrests of alleged members in the U.S. and England.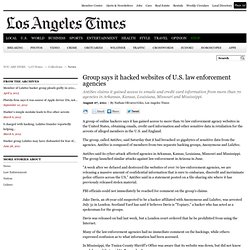 AntiSec says it has hacked websites of U.S. law enforcement agencies - latimes.com
News Corp's 'The Daily' Has Its Own News-Gathering Aerial Drone, Which Is Drawing FAA Inquiries
Not that we're jealous or anything
NATO Summit: Chicago Trains 13,000 Police For Mass Arrests
Oops!
Hacking groups say they are back after FBI arrests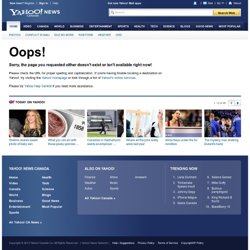 Training 8-year-olds to hack computers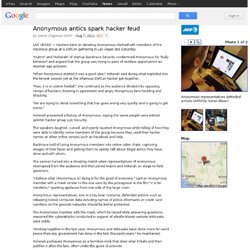 Anonymous antics spark hacker feud
Anonymous antics spark hacker feud
Following the arrest of Anonymous and LulzSec spokesman Jake Davis , aka Topiary, the London Metropolitan Police have issued an open statement via Twitter warning Anonymous hackers and supporters of the criminal charges they could face if caught.
Post-Jake Davis Arrest Met Police Address Anonymous Hackers, Supporters Via Twitter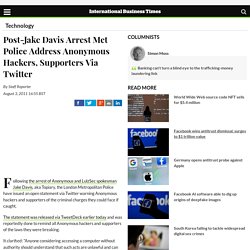 'V for Vendetta' Inspires Anonymous, Creator David Lloyd Responds
As a loose collective of so-called "hackers" labeled Anonymous continues to cause mostly harmless chaos around the Internet, a symbol born from Alan Moore and David Lloyd's graphic novel V for Vendetta has become synonymous with the cause of radical transparency online. The Guy Fawkes-style mask worn by the character V was first used by Anonymous as way to publicly protest what they saw as the harmful indoctrination of Scientology, but has since evolved to encompass an entire movement that is as seemingly diverse as it is secretive.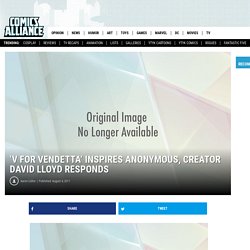 Metropolitan Police takes to Twitter to warn Anonymous and LulzSec supporters
The Metropolitan Police has taken to Twitter to warn would-be hacktivists exactly which laws they will break if they engage in any illegal hacking activity. In an unusual move, the force, which is home to the Police Central e-Crime Unit, posted a link to a Tweetdeck statement revealing that investigations into Anonymous and LulzSec are ongoing, and that it wants to "remind people of the law in this area". "Anyone considering accessing a computer without authority should understand that such acts are unlawful and can carry a term of imprisonment," the Met said.
'Topiary' #Bitcoin Logs were faked on the same day he was arrested – #lulzsec #anonymous #antisec
Topiary 'known' to police says network giant
OpPayPal, day two the effects
UK police arrest suspected teenage hacker
JULY 19--Fourteen suspected members of "Anonymous" are named in an indictment unsealed today charging them with participating in an online attack against PayPal that was prompted by the company's suspension of Wikileaks's account.
FBI Exposes The Terrifying Face Of "Anonymous"
But at least some of the suspects are not your typical hard-core hackers, judging from interviews with two of them and the online traces of others. Some did not bother to cover their digital tracks as they participated in what they saw as an online protest.
For Suspected Hackers, a Sense of Social Protest
fbi-trojan.pdf (application/pdf Object)
Third Target of FBI Anonymous Probe Steps Forward to Announce Innocence
We've been documenting the people that were targeted in the cross country raids on alleged Anonymous members .
Head of U.S. cyber agency resigns suddenly
Italy's specialist police unit responsible for combating cybercrime suffered an embarrassing hack on Monday by members of the loosely knit Anonymous hacktivist galaxy. In a communique posted on Twitter, the hacker group claimed to have obtained more than 8 gigabytes of internal data from what it called the "Homeland Security Cyber Operation Unit in Europe" and said it would publish all the material it had obtained from its Italian branch. The group said it had "owned" the server of the National Center for Computer Crime and the Protection of Critical Infrastructure (CNAIPIC) of the Italian police and would be publishing the material via the LulzSec and Anonymous communities under its #AntiSec campaign.
Anonymous hacks Italy's cybercrime police
UNLV student arrested by FBI for hacking in support of Wikileaks : The Rebel Yell
LulzSec and Anonymous are the least of your hacker worries - Jul. 25
Tech-savvy Taliban fights war in cyberspace
Script Kiddies and the Noise Musicians Who Use Them | SVIRGULA AGAINST ALL
Next Generation Pastebin - Viewing Paste 1539751
Next Generation Pastebin - Viewing Paste 1539626
NATO hacked by Anonymous
Oneiroi's Profile - GitHub
OpFreedom07232011
7/24 Cletus Convention - WBC is back
Second Target of Anonymous FBI Raids Steps Forward to Claim Innocence
Technolog from msnbc.com - Hacker arrests: Some were on Facebook, some blogged
Anonymous (YourAnonNews) on Twitter
Anonymous Is Still On NATO's Servers Downloading Data
If an Agent Knocks: Federal Investigators and Your Rights
Legal Assistance The National Lawyer's Guild has directed me to notify those
LulzSec's Tflow released on bail
Dutch release man accused of cyber attacks
Main Page - 4chanplus.com
The 13 Best Hacker Attacks Against Military Security Companies, the FBI, the Kochs ... and Arizona
::GIS::PWND::
AustriAnon vs GIS
Anon Indictment
16 Arrested as F.B.I. Hits the Hacking Group Anonymous
14 arrested in operation targeting Anonymous
Middle-aged Woman arrested for LulzSec Hacks: They're not all Teenage Boys
Arrests Could Show 'Anonymous' Might Not Be Exactly That - Law Blog
U.S. cyber arrests seen leading to more hackers
FBI nabs dozen of WikiLeaks-linked hackers
Who are Anonymous?
What, me a hacker?! Target of international manhunt speaks!
Anonymous und Lulzsec: "Wir haben keine Angst mehr"
‪Anonymous Colombia - Falsa Independencia‬‏
Anonymous or: How I Learnt to Stop Worrying and Love the Activists « q1osh
The inquirer reveals appearance of hacker leader louise boat
kej5isgj Shared by qqud
Operation Italy
The Bad News of No Unemployment
Anonymous says NATO is victim of hacking bid
Claims secret Nato email docs leave phone hacking for dead
#2254114
Domain Federation Protocol
Data Security Blog: July 2011
Fake Hackers leak details of cases vs Palin, hint Obama will be next - Technology - GMA News Online - Latest Philippine News
th3j35t3r dox
Backdoor On Lulzsecurity.com
fIR4G.png (PNG Image, 667x820 pixels) - Scaled (74