Jeux Vidéos
Les Sims
Un article de Wikipédia, l'encyclopédie libre. En 2000 , le premier jeu sims apparait sur PC . Système de jeu[modifier | modifier le code] Généralités[modifier | modifier le code] Les Sims est le premier volet d'une simulation de vie qui propose de gérer la vie de personnages virtuels appelés Sims.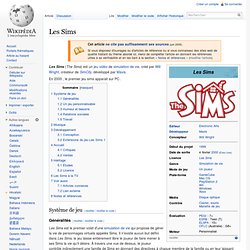 Rue des Sims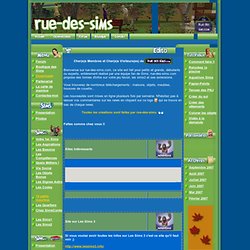 Les Sims™ 3 propose un tout nouveau moteur de jeu qui vous permet de plonger vos Sims dans un quartier vivant et ouvert où ils peuvent se déplacer librement et visiter de nouveaux endroits comme la plage, la montagne et le centre-ville. Le quartier est des plus animés et évolue sans cesse – cela signifie que l'action d'un Sim dans une zone du quartier peut très bien avoir des répercussions sur vos Sims à l'autre bout de la ville. Si vos Sims se trouvent au bon endroit au bon moment, qui sait ce qui peut se passer ? Et pour la toute première fois, vos Sims sont dotés de personnalités différentes grâce à un large éventail de nouveaux traits de personnalité. Vous aurez le choix de pouvoir choisir des traits de personnalité uniques comme courageux, artiste, kleptomane, maladroit, paranoïaque ou romantique. Associez jusqu'à cinq traits pour créer un nombre infini d'individus véritablement exceptionnels.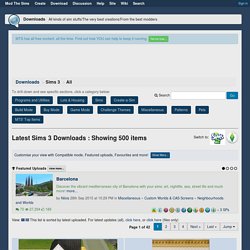 Home | Help | Download | Community | Site Map | New Posts | Sign in Sign in Mod The Sims Sign in to Mod The Sims Don't have an account?
Solutions, soluces et astuces des jeux d'aventure - Planète Aven
Lostingame Soluces
Tips, astuces et soluces de jeux vidéos
.:KMKTV:. - Vidéotesteur par Passion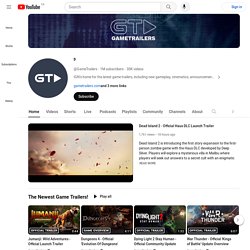 Since we've relaunched GameTrailers.com, some of the pages you have gotten used to over the years may have changed. To help find what you're looking for, take a look at our sitemap! Need Help?Head over to our FAQ page! Publishers/DevelopersIf you have questions about the site or a piece of media that you would like included on gametrailers.com, we would love to hear from you. Send us an email at: trailers@gametrailers.com
Un article de Wikipédia, l'encyclopédie libre. L'amiga 600 L'A600, aussi nommé Amiga 600, fut le dernier ordinateur de la lignée des A500. Lancé à la fin 1991, il était essentiellement un A500 repackagé.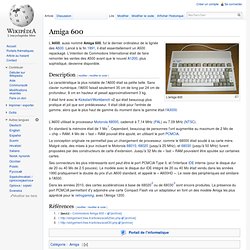 Amiga 600
YouTube - 100 Amiga games in 10 minutes!
The History of the Amiga
Since the Amiga was launched it has seen a great many changes many for the better, most for the worst. Amiga History Guide looks back to the golden age of the Amiga. Stand by with the tissues. Select a year by clicking the links below: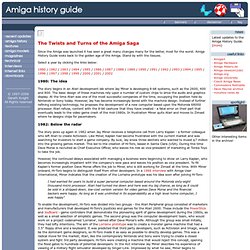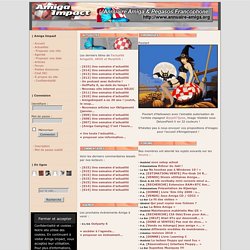 Les derniers titres de l'actualité AmigaOS, AROS et MorphOS : · Mise à jour de la Liste Des Jeux Amiga · Best of MorphOS Novembre-Décembre 2013 · Papiosaur@Home 2014 #1 · AmiDARK 2D Engine Release BETA 0.9 Dispo! · De l'or en barre · Les jumeaux de Babylone refont parler d&r... · Putty Squad enfin disponible · Test de MorphOS 3.4 · Le site Amigame est de retour ! · Wazp3D beta 55 disponible · Rapport sur l'Alchimie X sur LinuxF... · Nouveaux articles sur Obligement · Python 2.7.6 pour MorphOS · Le JIT PowerPC pour E-UAE entre en phase ... · [MOS] Odyssey Web Browser 1.23 disponible » lire toute l'actualité... » proposer une information... Voici les derniers commentaires laissés par nos lecteurs :
Amiga Impact | Actualités et ressources pour les utilisateurs d'
Amiga Museum : TITAN
ExoticA : Amiga music, games and information.
News Putty Squad is released and HVSC Update The HVSC Team has released v60 of their C64 Music Collection. The collection now contains more than 44,000 SID tunes. You can download from our mirror as well as using the web based search interface to stream the music as mp3/ogg. Big thanks to the HVSC Team, and to the C64 scene for continuing to produce excellent C64 music.
ExoticA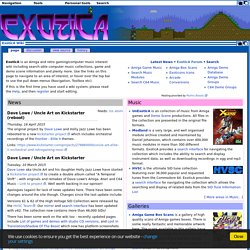 BitWorld - Amiga demos
Amiga Music Preservation (AMP), a non profit association, is running the biggest and most comprehensive database ever about amiga music and amiga musicians. All the composers of the amiga deserve to be remembered and to have their work preserved. We tried all we could on our own but although it's growing all the time, now we seriously need you to help us one way or another. 01.01.2014 (13:45) - 2014 - by Asle And here we are. Yet another year has come and gone. 2013 was nice, but it's now 2014.
Amiga Music Preservation - Home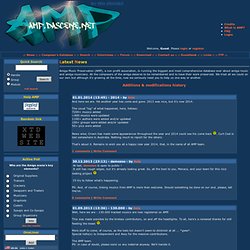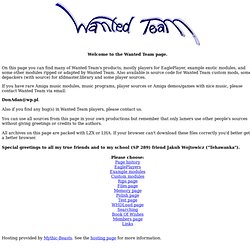 Wanted Team Page
Welcome to the Wanted Team page. On this page you can find many of Wanted Team's products, mostly players for EaglePlayer, example exotic modules, and some other modules ripped or adapted by Wanted Team. Also available is source code for Wanted Team custom mods, some depackers (with source) for xfdmaster.library and some player sources. If you have rare Amiga music modules, music programs, player sources or Amiga demos/games with nice music, please contact Wanted Team via email: DonAdan@wp.pl. Also if you find any bug(s) in Wanted Team players, please contact us.
A.D.A. Amiga Demoscene Archive
comment by jPV on 19 April 2004 Some original and good effects and nice gfx, but some "demofeeling" is missing. comment by Intrinsic on 23 April 2004 One of my all time favourites. The tune by Audiomonster is just out of this world. comment by ToAks on 23 May 2004