Tech Stuffs
The Best Of: Windows Software. On this page you will find the best Windows software for all your needs. Over 95% of listed apps are free. We've taken the effort to categorize the apps and picked only those we believe to be the best ones and which will most likely be useful to you. Expect great all-around protection against viruses and trojans. Multitasking - Lifehacker. The Only Secure Password Is the One You Can't Remember. One of the best ways to generate a secure password you'll remember is to move your finger to the right of the keys you'll type.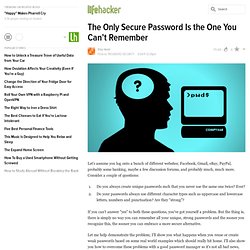 This way, you can choose a word that's important to you and you'll remember. So, if your password is "Password", you'd type it "[sddeptf" Now, taking this further to make it more secure, if you reverse the password: "ftpedds[" Add a number either at the start, middle or end - "7ftpedds[" And capitalise the first and last letter - "7FtpeddS[" 2 Easy Ways To Create An Impressive Timeline For Free. If you want a quick and easy way to create a timeline, there are many free online services that make it a snap.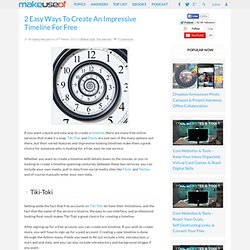 Tiki-Toki and Dipity are just two of the many options out there, but their varied features and impressive looking timelines make them a great choice for someone who is looking for a free, easy-to-use service. Whether you want to create a timeline with details down to the minute, or you're looking to create a timeline spanning centuries, between these two services, you can include your own media, pull in data from social media sites like Flickr and Twitter, and of course manually enter your own data. Tiki-Toki Setting aside the fact that free accounts on Tiki-Toki do have their limitations, and the fact that the name of the service is bizarre, the easy to use interface, and professional looking final result makes Tiki-Toki a great choice for creating a timeline. 3 Free Alternatives To DAEMON Tools For Mounting Image Files. The ability to use a virtual drive to mount optical media from a file will undoubtedly save you time and effort, but if you're a Windows user then your operating system can't do it without a helping hand.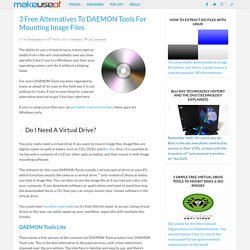 For years DAEMON Tools has been regarded by many as ahead of its class in this field, but it is not without its rivals. If you're searching for a decent alternative then we've got 3 hot tips right here. If you're using Linux then you can get better instructions here, these apps are Windows-only. Turn Your Home Router Into a Super-Powered Router with DD-WRT. Wireless is everywhere and routers are the force that makes it happen, so why not supercharge yours to take proper advantage of it?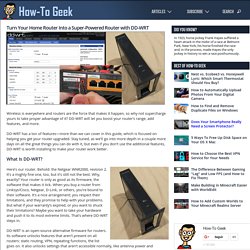 DD-WRT will let you boost your router's range, add features, and more. DD-WRT has a ton of features—more than we can cover in this guide, which is focused on helping you get your router upgraded. Stay tuned, as we'll go into more depth in a couple more days on all the great things you can do with it, but even if you don't use the additional features, DD-WRT is worth installing to make your router work better. What Is DD-WRT? Here's our router. Downloads. Guides.
Qwiki. 3 DIY Computer Repairs You Can Easily Do Yourself. Don't pay someone else to do it for you!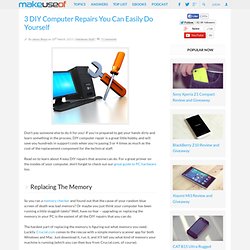 If you're prepared to get your hands dirty and learn something in the process, DIY computer repair is a great little hobby, and will save you hundreds in support costs when you're paying 3 or 4 times as much as the cost of the replacement component for the technical staff. Read on to learn about 4 easy DIY repairs that anyone can do. For a great primer on the insides of your computer, don't forget to check out our great guide to PC hardware too. Replacing The Memory.
A Visual Guide to Computer Cables and Connectors - Identify The Right Cable Easily. Computer cables can be confusing so here's a visual guide that will help you identify cables, connectors and converters that came with your computers and other electronic gadgets.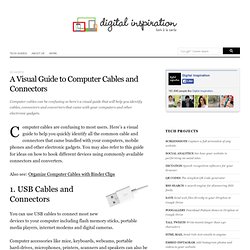 Computer cables are confusing to most users. Here's a visual guide to help you quickly identify all the common cable and connectors that came bundled with your computers, mobile phones and other electronic gadgets. F | MakeUseOf.com ★ 71. How to Back Up Your Gmail the Easy and Cheap Way. Introducing Blogger Android App. Posted by Vinay Sekhri Have you ever wanted to write up a quick blog post on the go?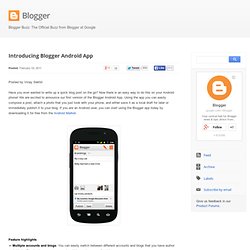 Now there is an easy way to do this on your Android phone! We are excited to announce our first version of the Blogger Android App. Using the app you can easily compose a post, attach a photo that you just took with your phone, and either save it as a local draft for later or immediately publish it to your blog. If you are an Android user, you can start using the Blogger app today by downloading it for free from the Android Market.
Minimalist for Gmail. Engadget. Notes and blogs - Getting Started With Evernote. | Evernote Corporation. Evernote can store many different types of content, and the most common is simple text; whether it's a note you write to yourself, a portion of a web page that you'd like to save or an email you've received that you want to remember, Evernote knows how to handle it.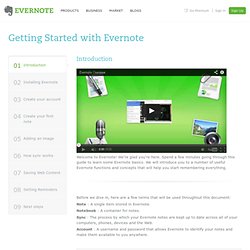 With that in mind, let's create your first note. It's as simple as that.