Gifts
Gift Ideas for poor creative souls (6) You know how it goes, a friend calls you and invites you to dinner at the last minute.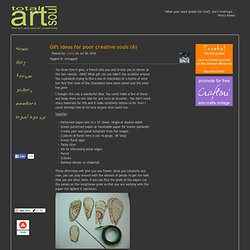 OMG! What gift can you take?! DIY Box Braid Necklace. The moment we saw Phillip Lim's Box Braid Collar Necklace, we were immediately overcome with a wave of nostalgia.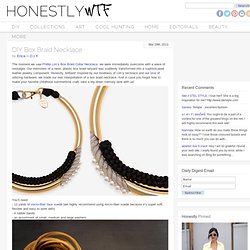 Our memories of a neon, plastic box braid lanyard was suddenly transformed into a sophisticated leather jewelry component. Honestly, brilliant! Inspired by our fondness of Lim's necklace and our love of utilizing hardware, we made our own interpretation of a box braid necklace. And in case you forgot how to make your favorite childhood summertime craft, take a trip down memory lane with us! Start by cutting the suede in 4 three-yard pieces. DIY Braided Bead Bracelet. It's been awhile since our last bracelet DIY.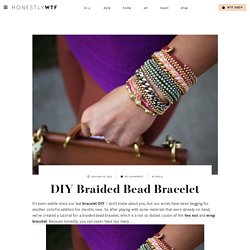 I don't know about you, but our wrists have been begging for another colorful addition for months now. So after playing with some materials that were already on hand, we've created a tutorial for a braided bead bracelet, which is a not so distant cousin of the hex nut and wrap bracelet. Because honestly, you can never have too many . . . You'll need: Cut the waxed linen cord into a 26″ and 19″ piece. Etsy - Your place to buy and sell all things handmade, vintage, and supplies. Curled Rosewood Wreath. I have seen various versions of Faux Rosewood Wreaths in just about every store and catalog for the upcoming season; most with a price tag running upwards of $40 or more.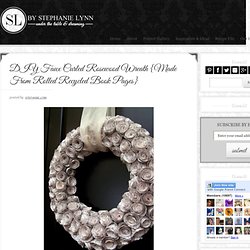 Some are crafted of paper and other of real wood shavings. Last year I made a few rolled flower gift toppers from recycled book pages and they remind me so much of the curled wood roses I thought they would make a good substitute. Giant Paper Rose Flower | Green Wedding Shoes Wedding Blog | Wedding Trends for Stylish + Creative Brides - StumbleUpon. Bolt Bracelet. String/Doily Lanterns. Jessica of Wednesday Inc shows us how to make those gorgeous twine chandeliers from the inspiration shoot she shared with us this morning.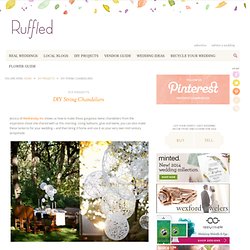 Using balloons, glue and twine, you can also make these lanterns for your wedding – and then bring it home and use it as your very own mid century lampshade. What you will need are: balloons, glue, yarn, tray for glue, corn starch 1/2 cup of Corn starch, 1/4 cup of Warm water, clear fast drying spray paint, hanging lamp cord or fishing line (depending on your desired final product), and a lighting kit if you're looking for a fully functional lantern. Tissue Flowers. A couple of months ago, Jenny - the very lovely editor of PaperCraft Inspirations - asked me to work up a feature on different ways to use tissue paper.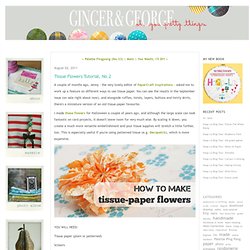 You can see the results in the September issue (on sale right about now), and alongside ruffles, twists, layers, buttons and twirly skirts, there's a miniature version of an old tissue-paper favourite. I made these flowers for Halloween a couple of years ago, and although the large scale can look fantastic on card projects, it doesn't leave room for very much else. Gift Ideas for poor creative souls (6) Honestly WTF. Experience Days | Activity Day Experiences | Experience Gifts and Vouchers. Handmade Artists' Shop (HAFshop) Buy Directly from the Artist. Lampwork bead set Springtime twists. Ankh Stud Earrings in Sterling Silver with Bronze Inner Discs.
---