Parenting
Team Imhoff: {Office Clip + Phone Charger}
Kids. 10 Surprising Brain Builders for Preschoolers. Ava is having a great time with her electronic animal sounds game.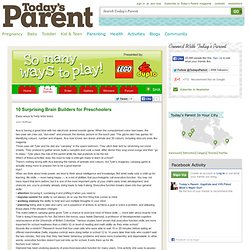 When the computerized voice hee-haws, the two-year-old cries out, "dun-kee!" And presses the donkey picture on the touch pad. This gizmo also has games for identifying colours, number and shapes. Ava now knows two dozen animals and 30 colours, including obscure ones like magenta. Home - Richard Louv. The Great Parenting Show. Don't forget to bookmark this page so you can return to it whenever you like Starting from September 20th, the interview mp3s will be made available for download 24 hours after the call, The transcripts will be available for download 5-7 days after the interview.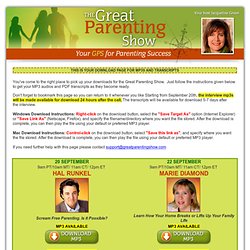 Windows Download Instructions: Right-click on the download button, select the "Save Target As" option (Internet Explorer) or "Save Link As" (Netscape, Firefox), and specify the filename/directory where you want the file stored. After the download is complete, you can then play the file using your default or preferred MP3 player. Mac Download Instructions: Control-click on the download button, select "Save this link as", and specify where you want the file stored.
Amy McCready — Author of "If I Have to Tell You One More Time" Allowance, Age by Age. My Family. Sweet Potato Chronicles - THE NEVER ENDING STORY OF THE WELL-FED FAMILY… A Quick Bite With Sophie Dahl Way before Sophie Dahl was run­way famous, I used to some­times find her drink­ing tea at the kitchen table of my friend Cass' Not­ting Hill home.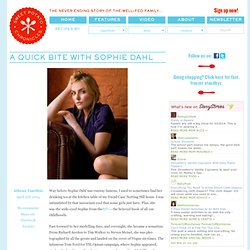 I was intim­i­dated by that insou­ciant cool that some girls just have. Plus, she was the wide-eyed Sophie from theBFG – the beloved book of all our childhoods. Fast for­ward to her mod­el­ling days, and overnight, she became a sen­sa­tion. From Richard Ave­don to Tim Walker to Steven Meisel, she was pho­tographed by all the greats and landed on the cover of Vogue six-times. Feisty Frugal & Fabulous. East Coast Mommy. AMotherWorld (13) Fun and Funky Mommy (13) Mom Central Canada (13) Canada's Top Mommy Bloggers | 20 Mom Blogs We Love | SweetMama.
---