Marketing
I 2006 innførte Storebrand Forsikring en regel om at ingen problemer skulle stå uløst i mer enn 24 timer. - Det gikk fint en stund, men så gikk selskapet tilbake til gamle vaner. Da kom ideen om å effektivisere på en morsommere og mer kreativ måte å løse utfordringer på, sier administrerende direktør Gunnar Rogstad. I et rom i selskapets lokaler på Lysaker, står det «Fix it» på døren. Dette er også navnet på prosessen som brukes til å løse utfordringer. Fix it-rommet minner om et moderne klasserom, med flere store tavler på veggene.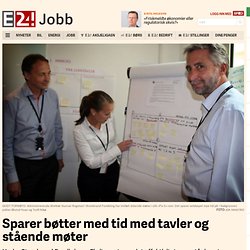 Effektiviserer arbeidsdagen med stående møter - Jobb
Young Entrepreneurs — Making Money Online
The following is an interview with young serial entrepreneur, Marshall Haas. Marshall's websites are MarshallHaas.com and NeedWant.com where the rest of his ventures are showcased. Marshall was 23 at the time of the interview, but has just recently turned 24. Marshall was a winner of the Underground scholarship the first year it was done, and has gone to a very[click to continue...]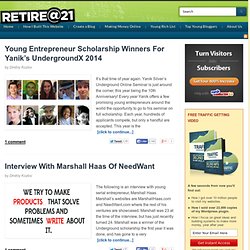 Very very quietly (there is almost no Google footprint), investment bank and securities firm Goldman Sachs held its "Private Internet Company Conference" this week in Las Vegas. During the two-day conference, which lasted from November 29-30th, a gaggle of companies presented their business models to an elite audience composed of bankers, investors and peers. Attendees listened to talks given by A16Z's Marc Andreessen and Square's Keith Rabois (who gave the keynote on Tuesday night). SV Angel's Ron Conway was also there, being himself.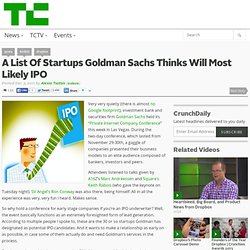 A List Of Startups Goldman Sachs Thinks Will Most Likely IPO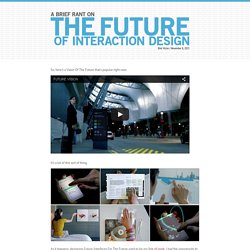 So, here's a Vision Of The Future that's popular right now. It's a lot of this sort of thing. As it happens, designing Future Interfaces For The Future used to be my line of work. I had the opportunity to design with real working prototypes, not green screens and After Effects, so there certainly are some interactions in the video which I'm a little skeptical of, given that I've actually tried them and the animators presumably haven't. But that's not my problem with the video. My problem is the opposite, really — this vision, from an interaction perspective, is not visionary.
Logg inn til Beetrieve
Options Before downloading the free logo maker software below, take just 5 minutes to read the information on this page because it may save you a lot of time and money whilst increasing the chance of success for your business! 1. Free Logo Maker Software - Online2. Download Logo Maker Free Logo Design Maker Vs Custom Logo Design Service