Deserts
Dutch Baby with Caramelized Vanilla Bean Pears: Moving Through the Decades. April 2nd, 2012 My hair stylist told me the other day that the mullet is coming back.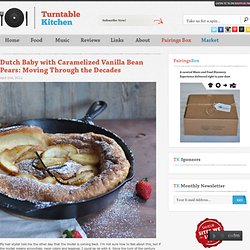 I'm not sure how to feel about this, but if the mullet means scrunchies, neon colors and leggings, I could be ok with it. Since the turn of the century (how crazy does that sound?!) We've gone through the 70′s hipster phase and I suppose it's not unreasonable to expect that the mullet is just around the corner. Let's talk about the 80′s. Dutch Baby Recipe, German Pancake Recipe. Method 1 Preheat oven to 400°F.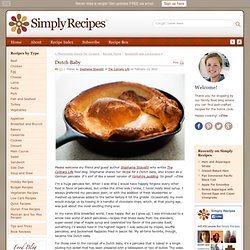 Put a 10-inch cast iron skillet into the oven and heat for at least 8 minutes. Homemade Applesauce. A few weeks ago we took a drive up to my favorite place on earth, the beautiful state of Vermont.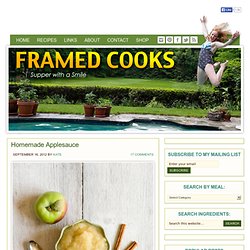 We did all our usual things that we do up there…horseback riding, hiking, taking long luxurious naps with the windows open to let in the sounds of birds chirping and the occasional moo from the neighboring farm. And because it is Vermont where the seasons start to change early, we also got in a little apple picking.
Jason's Everlasting Recipes. Peach and Blueberry Crisp - Seasonal Dessert Recipe. On our summer road trip, we spent four nights in San Francisco.
When planning the itinerary for the trip I made sure to allow plenty of time there. I absolutely love the city– the crisp sea air, the beautiful architecture, and the amazing restaurants. San Francisco has so much character and history; I'm always looking for an excuse to visit! One of our first stops was the Ferry Plaza, a huge seaside hall that has been overtaken by local food brands. I'd been before, but my husband never had. Spiced Watermelon Salad Recipe.
Flavor Exposed | Kyle Books, 2012 I just love this dish.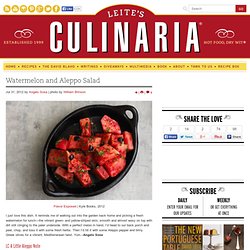 It reminds me of walking out into the garden back home and picking a fresh watermelon for lunch—the vibrant green- and yellow-striped skin, smooth and almost waxy on top with dirt still clinging to the paler underside. Strawberry Greek Yogurt Banana Bread. During the summer I tend to make a lot of quick breads and that is because there are so many fruits and vegetables that are available that make really good quick breads.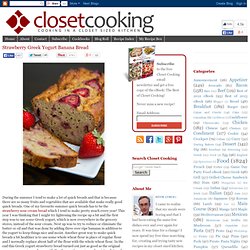 One of my favourite summer quick breads has to be the strawberry sour cream bread which I tend to make pretty much every year! This year I was thinking that I might try lightening the recipe up a bit and the first step was to use some Greek yogurt, which is now everywhere in the grocery stores, instead of the sour cream. Next up was to try to reduce or eliminate the butter or oil and that was done by adding three over ripe bananas in addition to the yogurt to keep things nice and moist. Another great way to make quick breads a bit healthier is to use some whole wheat flour in place of regular flour and I normally replace about half of the flour with the whole wheat flour.
Creamy Lemon Crumb Squares. This recipe came from Marlboro Man's grandmother.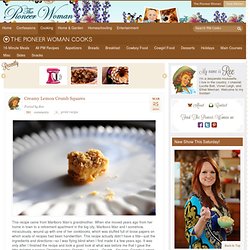 When she moved years ago from her home in town to a retirement apartment in the big city, Marlboro Man and I somehow, miraculously, wound up with one of her cookbooks, which was stuffed full of loose papers on which scads of recipes had been handwritten. This recipe actually didn't have a title—just the ingredients and directions—so I was flying blind when I first made it a few years ago. It was only after I finished the recipe and took a good look at what was before me that I gave the little delights a proper Christian name: Creamy…Lemon…Crumb…Squares.
Creamy Lemon Crumb Squares! Whole Lemon Bars. I've been having my own little festival of citrus around here, especially because I've become addicted to the produce aisle at my local natural food store.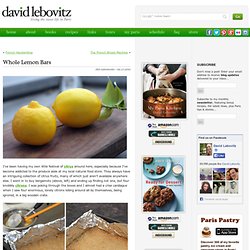 They always have an intriguing collection of citrus fruits, many of which just aren't available anywhere else. I went in to buy bergamots (above, left) and ending up finding not one, but four knobbly citrons. Zucchini Bread Recipe. Like banana bread, zucchini bread is an easy quick bread to put together, without the need for any fancy appliances.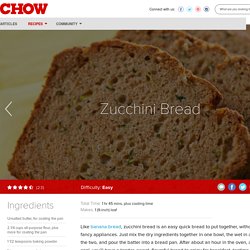 Just mix the dry ingredients together in one bowl, the wet in another, combine the two, and pour the batter into a bread pan. After about an hour in the oven, and a little time to cool, you'll have a tender, sweet, flavorful bread to enjoy for breakfast, teatime, or a snack. Special equipment: You'll need a metal 9-by-5-inch loaf pan for this recipe. Loaf pans can be purchased at most cooking supply stores and at many large grocery stores. You also might want to try our savory quick bread recipes. Best Lemon Bars Recipe. Summer Recipe: Whole Wheat Plum Crumble Pie Recipes from The Kitchn. I imagine a farmhouse grandma pulling something like this out of her wood-fired oven.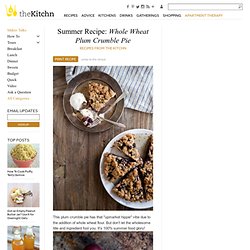 I don't have one of those ladies in my life — my grandmas were city broads who used their ovens to store handbags and hot rollers. When us kids clamored for dessert, it was for the chocolate cake straight from the Entenmann's box or ice cream from the musical truck. Both grandmas would have loved a slice of this confection, however. With a big scoop of vanilla bean ice cream to top it, to be sure. Whole Wheat Plum Crumble Pie. Hot cocoa cookies. I am a teeny bit obsessed with the cookies from the most recent issue of EveryDay with Rachael Ray magazine.
This recipe is the second of many cookie recipes on my list to make this holiday season. Sweets are taking over my life! Just ask my coworkers. They get my leftovers, and I think they are starting to resent the way I am forcing them to eat sinful treats. I don't think I need to tell you that these were tasty. Whole wheat raspberry ricotta scones. This is the very first recipe I developed for my cookbook. It came as an accident — you would think that someone who spends as much time shopping for groceries as I do wouldn't constantly run out of flour and cream mid-recipe but I'd surprise you — but I immediately fell in love with it and knew it needed a home in print. Over the last year, I made them whenever I've had an excuse and a few times that I didn't. They fit so squarely within the vision I had for the book that when everything else felt impossible I'd think, "It's okay. I've still got those whole wheat raspberry ricotta scones." Chocolate babka. If you've ever tried to recreate something you loved when you were growing up in your own kitchen, you know how difficult it can to match your taste memory to the reality of ingredients and step-by-step directions.
Sometimes, even when you get the flavor right, it doesn't feel right, but you hold out for those rare times that everything falls into place. After realizing that both Alex and my families loved the same decadent grocery store chocolate babka growing up, I set out to find a recipe to recreate it at home. I waded through dozens and dozens, convinced that something was off in each of them, continually closing my eyes and trying to remember exactly what makes it what it is. First, it's completely over-the-top. The chocolate to bread-like dough ratio is unseemly. Video: Grandma's Lemon Meringue Pie. Grandma's Baked Rice Pudding with Meringue Recipe. Lemon Meringue Cookies. If the dream fairies are taking requests, tonight I'd like my dreams to include: the bright green grass of a perfectly manicured baseball field. first kisses. lemonade so cold and tart it almost hurts my teeth. … maybe a waterfall… that might be nice.
Chocolate swirl buns. A few years ago, I conquered one of what has to be one of the seven wonders of my culinary world, chocolate babka. Babka, if you're new to it, poor you, is a brioche-like sweet yeast cake, usually rolled thin and spiraled around a filling of chocolate, cinnamon, sweet cheese or fruit, and is often studded with streusel. And I know that most people save their gushing prose for lemon meringue pie, 8 inches high, or brownies with swirls of peanut butter, candied bacon and candy bars inside, I know that most people hadn't heard of babka before it became a punch line, but Alex and I fondly remembering the grocery store chocolate babkas — with endless spirals slicked with bittersweet chocolate — of our childhood and I couldn't rest until I cracked the code at home.
Chocolate Zucchini Bread Recipe. Skinny Honey Lemon Bars. Chocolate chip sour cream coffee cake. Strawberries and cream biscuits. Homemade Nutella. Mandalinalı Sıcak Puding | snOw eggs. Portakal ağacı: Profiterollü Pasta ve Mahlepli Kurabiye. Thick, chewy oatmeal raisin cookies. Mom's apple cake / yaptım çok güzel oldu! Tartelette.
Pops
---