DIY
Post written by Leo Babauta. You get up in the morning, you rush to get ready for work, you rush out the door without a breakfast. Perhaps you grab a bagel and cream cheese, perhaps a muffin, perhaps an Egg McMuffin. If you're lucky, you get a pastry, a hearty breakfast of pancakes and sausage and eggs, or an English fry-up. Unfortunately, when it comes to being healthy, none of these options is a great way to start your day. Several readers asked about healthy breakfast ideas, and in truth, it's a dilemma that many of us face each day.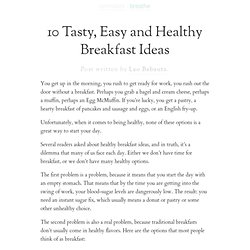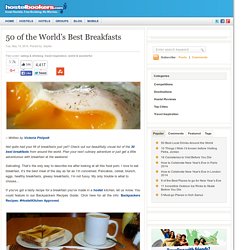 - Written by Victoria Philpott Salivating. That's the only way to describe me after looking at all this food porn. I love to eat breakfast, it's the best meal of the day as far as I'm concerned.
WOO HOO! Call me a big nerd but my heart's pounding because i'm so excited and honored to be here!!! my name is Sarah and i keep a blog over at Welcome to the gOOd life. it's a diary written by me (and sometimes by my hilarious husband) of the good and the ugly as a wife, a stay at home mom, raising two kids under three-just a year apart, and also my weekly DIY sewing projects. so should we get on to my DIY project? inspiration: squeezebox top from anthropologie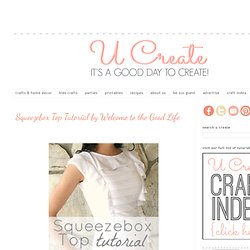 Stenciled Watercolors Tutorial
At the suggestion of a friend, I am posting a tutorial on how to make a nice watercolor painting using plastic stencils! It really is quite a simple process and you end up with something that looks professional. I love sharing these little secrets with people. It's fun!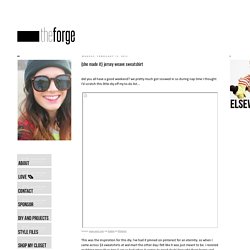 did you all have a good weekend? we pretty much got snowed in so during nap time I thought i'd scratch this little diy off my to-do list... This was the inspiration for this diy. i've had it pinned on pinterest for an eternity. so when I came across $3 sweatshirts at wal-mart the other day i felt like it was just meant to be. i resisted grabbing more than two (i am so bad when it comes to good deals) brought them home and gave them both a good wash and dry. the other one is white and i already have something in mind for it...