Stay healthy & fit
How to Start Running. By Rachel Shelasky Ready to try a running routine?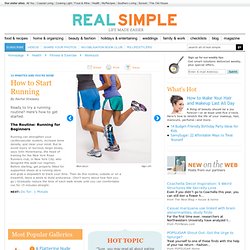 Here's how to get started. The Routine: Running for Beginners. 15 Minutes to Better Posture. By Sharon Tanenbaum In a bit of a slump?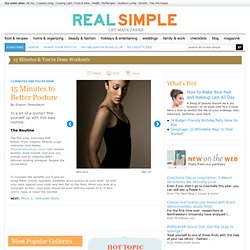 Pick yourself up with this easy routine. The Routine The five easy exercises that follow—from Calgary, Alberta, yoga instructor Susi Hately (functionalsynergy.com)—can release tension, build muscle, and give you energy and an instantly taller, slimmer-looking physique. 15-Minute Crunch-Free Ab Workout. By Sharon Liao Try this quick exercise routine for a trim, toned core—no crunches required.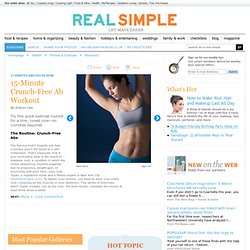 The Routine: Crunch-Free Abs. Trim Your Inner Thighs With Easy Exercises. By Sharon Tanenbaum Strengthen your thigh muscles in just minutes with this toning workout.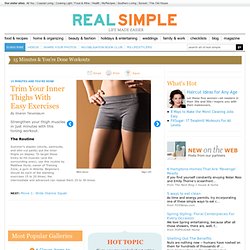 The Routine Summer's staples (shorts, swimsuits, and slim-cut pants) put the inner thighs on display. To target these tricky-to-hit muscles (and the surrounding ones), use this routine by Matthew Hurst, owner of Training Zone, a gym in Atlanta. Lower Abdominal Exercises. By Sharon Liao Tone your lower abs with a 15-minute workout, three times a week.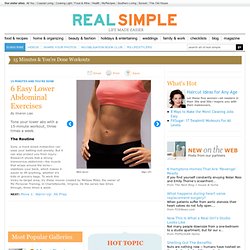 The Routine Sure, a more toned midsection can ease your bathing-suit anxiety. But it can also protect you from injury: Research shows that a strong transversus abdominis—the muscle that wraps around the torso—stabilizes your back, which makes it easier to lift anything, whether it's kids or grocery bags. 6 Core-Strengthening Exercises. By Lisa Whitmore Tone your core with a 15-minute workout, three or four times a week.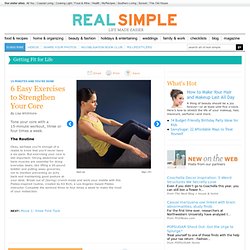 The Routine Okay, perhaps you're enough of a realist to know that you'll never have a six-pack. Tighten Your Glutes in 15 Minutes. Fun Hula-Hoop Exercise Routine. By Lisa Whitmore Channel your inner child with this quick and effective workout.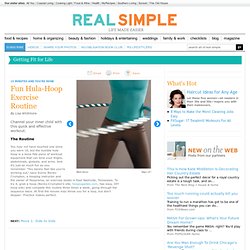 The Routine. Remedies for Bloating - How to Relieve Bloating. It's Saturday night, and you slip on your sexiest pair of jeans.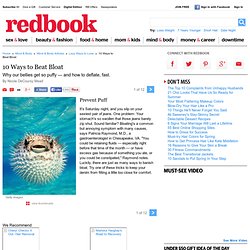 One problem: Your stomach's so swollen that those jeans barely zip shut. Sound familiar? L o s e r t o w n. The best detox foods to look great. Having a diet rich in detox foods will naturally help your health.
But some of those foods are especially good to make you look great. Eating more of the detos foods below will not only improve your look but also support your body to detox naturally and flush out environmental toxins as well as metabolic waste. Losing weight Artichoke: One of the best detox foods for your liver, artichokes are also low in calories and contains compounds that can help lower your cholesterol levels. Photo 1- 7 Healthy Recipes From S.F.'s Newest (Raw) Foodie Darling. Dinner: Caramelized Onion and Sage Tart 3-4 servings These tarts take a bit of preparation and planning, but the steps themselves are simple, and the hearty result is well worth it, especially on a cold winter night.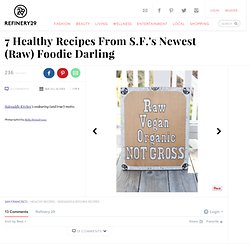 Nutritional Notes: Onions have anti-bacterial and anti-viral properties, which are great for surviving cold and flu season untouched. Crust Ingredients: 3 walnuts 1 Tbsp. nutritional yeast 1 Tbsp. olive oil ¼ tsp. salt. Poop-pee-full.jpg (JPEG Image, 997x4980 pixels) Yeast Free Living.
---