Blogger sites.
WordPress.com — Your Blogging Home. LightPond. Frontlines of Revolutionary Struggle.
Blogs I follow
Create your free blog. LIQUID MOUNTAINEERING. Activist Post. The Man with the Bullhorn is a Lying Sack of Shit. Dog Poet Transmitting.......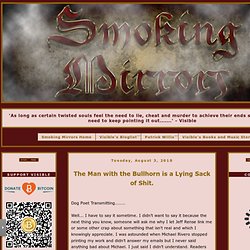 Well... I have to say it sometime. I didn't want to say it because the next thing you know, someone will ask me why I let Jeff Rense link me or some other crap about something that isn't real and which I knowingly appreciate. I was astounded when Michael Rivero stopped printing my work and didn't answer my emails but I never said anything bad about Michael. I just said I didn't understand. The Vatic Project.
---