2
Welcome to NEXUS Magazine!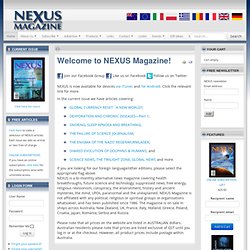 NEXUS is a bi-monthly alternative news magazine covering health breakthroughs, future science and technology, suppressed news, free energy, religious revisionism, conspiracy, the environment, history and ancient mysteries, the mind, UFOs, paranormal and the unexplained. NEXUS Magazine is not affiliated with any political, religious or spiritual groups or organisations whatsoever, and has been published since 1986. The magazine is on sale in shops across Australia, New Zealand, UK, France, Italy, Holland, Greece, Poland, Croatia, Japan, Romania, Serbia and Russia. Please note that all prices on the website are listed in AUSTRALIAN dollars. Australian residents please note that prices are listed exclusive of GST until you log in or at the checkout.
In an appalling yet sadly not unexpected decision, Keir Starmer the Director for Public Prosecutions, announced yesterday that no one would face charges over the death of Ian Tomlinson. Tomlinson, a newspaper vendor, was on his way home on 1st April last year, when he fell foul of what can only be called a gang of police, ostensibly there to 'serve and protect' the public during the G20 protests, and all too eager to mete out agression to any who crossed their path. Anonymous for a very long time, PC Simon Harwood was caught on video striking Tomlinson and causing him to fall to the ground. Mr Tomlinson died later. Harwood, in keeping it seems, with many police that day, had elected not to wear identifying insignia. This in itself made revealing him a very difficult task, and one cant help but wonder whether this wasn't a large part of the motive for so doing.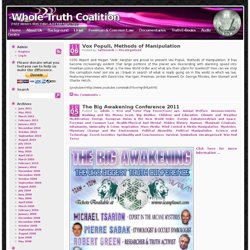 Whole Truth Coalition - FREE MINDS BUILDING A BETTER WORLD
12160.org - "Destroying the New World Order"
WHAT REALLY HAPPENED | The History The US Government HOPES You Never Learn!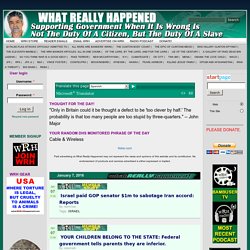 On Friday, more than seven months after he professed to "welcome this debate" over National Security Agency spying, kicked off by whistleblower Edward Snowden, President Obama finally got around to debating. His speech at the Justice Department was a tour-de-force of petulance, dissembling, and phony piety about civil liberties. The president is at least as fond of passive constructions as Chris "Mistakes Were Made" Christie.
Power of Prophecy: The monthly newsletter ministry of Texe Marrs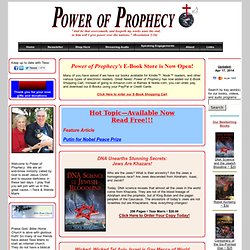 The First Ever Exposé of Unheralded Wickedness Judging from the multitudes of devil statues and other forms of occult architecture, the prince of darkness does, indeed, reign over planet earth. Stony beasts and devils—sculpted, cast and carved out of stone, marble, wood, metal, and plaster—are everywhere, all around us. In almost any city in the United States, one can encounter unexpected evil, sometimes staring you right in the face.
'After remaining silent for days, Nevada Sen. Harry Reid made comments regarding the ongoing dispute between the Bureau of Land Management and rancher Cliven Bundy today, accusing the Bundy family of violating the law. "Well, it's not over. We can't have an American people that violate the law and then just walk away from it. So it's not over," Reid told News 4.
Headlines
AboveTopSecret.com: Conspiracy Theories, UFOs, Politics, and Many Other "Alternative Topics"
Truth Control | What They Didn't Teach You In School
Democracy Now!